New York City is like love. It should be entered into with abandon or not at all.
A season in New York changes everyone, for better or worse. Life in that city is an exercise in speed and reflexes which, ultimately, is monitored by happenstance. That probably defines what kind of person feels attracted to it. Nobody goes to rest and lead a quiet life. New York is a city for people who want to work for things and live as intensely as possible.
Welcome to the capital of the world.
A Guide for a Big Apple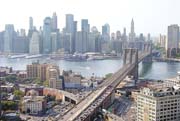 New York's light highlights the edges of every character and draws singular profiles. Each person's peculiarities turn easily visible and even the most normal of persons shows a hint of eccentricity. It may be the hodgepodge, the relative feeling of being uprooted experienced by emigrants, or the crazy hours of a city that never sleeps (which is rigorously true), or because people let go of certain conventionalities. This doesn't apply to tourists, who look like aliens from a cartoon no matter where they go. It applies strictly to New Yorkers. Whether native, resident or temporary.
It also applies to all kinds of New Yorkers. From all five boroughs. It's important, to understand this city guide, that you know that New York was divided into five boroughs in 1898. Five variations of a uniform personality, they distribute how much influence they have on what areas in a reasonably peaceful way. You can find there:
If New York City is a family of five orphaned siblings (because its capital really doesn't hold any sway on their development), Manhattan would be the oldest, most authoritative one. It guides all the others. It informs them of what the family is all about. Their personality, their trends, their tendencies. What's cool, what's not. It has a lot of the family's assets. Namely, the things you'll want to see when you visit New York City. It has all the skyscrapers, reigned by the aged yet assertive sight of the Empire State Building; it has the iconic Statue of Liberty; it has Central Park. It even has room for Harlem. You could, as many people do, just spend the totality of your trip in Manhattan and claim that you have visited New York City.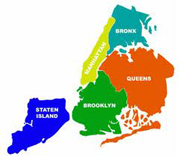 You would not be incorrect. You would be wrong in many different kinds of ways, though. You would be missing out in the distinctiveness of Brooklyn. As will see in this guide, Brooklyn is Manhattan's immediately younger brother. It doesn't fully accept Manhattan's views but it respects it. Like all siblings of its kind, it is strongly and visibly connected to its brother. In this case, it's the Brooklyn Bridge, once the biggest bridge in America and now simply a stunning construction. It also is home of the alternative: it is the world capital of hipsters -- a modern urban race that eludes scientific definition but which is comprised of people who reject mainstream unless they can take it ironically.
Then we have Queens. The middle sister. The neighborhood who doesn't know whether it's closer to its cocky and assertive older siblings or to the younger ones. It's still vintage New York City. It's just more quiet, more homely, less touristy. It shares less traits with Manhattan than with some other city in the U.S. Its sights, as you will find in this guide, are not corporate headquarters but parks. And yet, family is family (or genes are genes, depending on how you look at it) and there's still something quintessentially New York City about it. It could be the grit, it could be diversity. Or it simply could be the attitude.
The Bronx is the rebellious brother. Not the black sheep, because, deep down, it's a good citizen on its quest for redemption. But he has a problematic, eminently criminal past. In the 1970s and 1980s, the South Bronx fell into a vicious circle where its crime rate was so high, real estate lost its value. Since real estate lost its value, landowners would burn their own buildings to ashes to at least make a profit from the insurance. And since the neighborhood was constantly on fire, crime in the city kept getting worse and decreasing real estate value. Nobody wanted to live in it, not even those who did. After years of police intervention, things calmed down (apparently on their own, although there are several theories about it, none of them with enough weight to be definitive). But it has a good soul. Deep down, it has always had it. It just doesn't always let it guide her. Its main sights are family friendly attractions like the Bronx Zoo or the New York Botanical Garden. Nowadays, now that the borough has rebuilt itself, it's trying to let its past behind..
And finally, Staten Island. The youngest, the cutest. The forgotten. The one that still hasn't gotten over the loss of Mom and Dad (which, in this metaphor could well be its connection to America) and has refused to grow up. It never embraced the brick, the asphalt, and has fought for its green spaces. Just like New York City used to see. It has Stillwell-Perine House, a stone cottage with a with a sloped shingle roof built 275 years ago. It has the beautiful Clear Comfort house. Its history makes it so fascinating you almost wish this younger sibling never becomes of age.