The New York Botanical Garden is a 250-acre monument dedicated to plants -- to both displaying its beauty and fighting for their preservation.
It has thousands of species of plants gathered from all over the world, from the least accessible sites of the world.
The Gardens, however, offer much more than this. In fact, you don't need to be a plant lover to enjoy it. You just need to know about Beth Straus and then visit the Rose Garden.
New York Botanical Gardens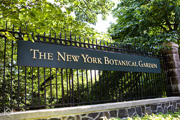 A sweet-looking aesthete from San Francisco, Beth Straus was the chairwoman of the horticulture committee in the 1980s -- a position of relatively vague responsibilities but that somehow enabled her to stumble upon the original design drawings for the Botanical Garden's rose garden, by a woman called Beatrix Jones Farrand. It didn't look quite the one that had been constructed in 1916 -- there was a remarkable iron latticework enclosure that, among other architectural designs, had been discarded at the time for some reason.
So Beth Straus did what people do when they want to get these types of things done. She called a Rockefeller, who happily donated $1 million as long as the revamped garden bore his wife's name Peggy. New York is full of public spaces called after a Rockefeller wife, so the decision was only logical. (Perhaps unironically, the Abby Aldrich Rockefeller Sculpture Garden at the Museum of Modern Art was planned by Strauss herself.) The garden became a reality.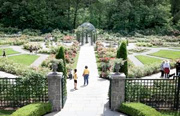 This is kind the of thing that Beth Straus did for years at New York's Botanical Garden. She single-handedly turned what was a public park where people walked their dogs into a premier botanical institution in the U.S.
The woman came to New York from San Francisco with a strong passion for horticulture. She was an expert gardener so she went straight to voluntarily mount specimens in the Garden's herbarium. By 1966, she had found herself a seat in the board. She must have disapproved of the Garden's neglected state and how people from The Bronx would look down on it, because she started her crusade to revamp it.
Of course, pulling strings is easier when your husband is part of the family that owned Macy's department store -- the friends she recruited in her crusade were remarkably helpful.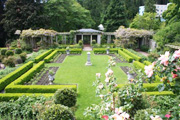 For instance, there was Enid A. Haupt (daughter, and hence heiress, of two publishing moguls), who had the habit of donating millions of dollars to public gardens around America and who would disburse tens of millions to the one in the Bronx; exclusive designer Lynden B. Miller, who would create the half-acre perennial garden; and a man called Gregory Long, who wasn't a millionaire or a designer, but who would end up being appointed the garden's president in 1989.
The garden, now home to more than 600 varieties of roses and more than 3,600 individual plants, opened in 1989. By then, public attendance to the Botanical Garden was around 300,000 people a year. Today, it is around 800,000 people.
When Beth Straus died, in December 2010, she must have been one of the proudest women in New York.