You'll never grasp all of Manhattan's nightlife. There's too much of it. And it's always changing.
Instead, the wisest thing to do would be to stop trying to conquer it. Go with the flow. Enjoy the most of whatever place end up at. That is, after all, the true spirit of New York.
But for the flow-averse, here are three spots that not only are vintage New York, but they'll give you an ample taste of what the Big Apple's nightlife has to offer.
White Horse Tavern
Hudson Street with 11th Street (The Village)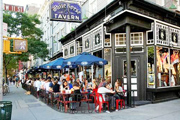 A portrait of Dylan Thomas hangs in the walls of this cozy bar. After spending there a night in November of 1953, the brilliant (and dipsomaniac) Welsh writer boasted with much fanfare that he had just drunk 18 glasses of whisky. "It must have been some kind of record," he added. Then he passed out. When he woke up, he had a couple glasses of beer and headed to the hospital. He would pass away a few days later.
But the White Horse Tavern didn't. Maybe there aren't as much sailors, workers and bohemian writers (think Bob Dylan, The Doors' Jim Morrison, two-time Pulitzer Award winner Norman Mailer and Hunter S. Thompson) as there were in the bar's heyday in the 1960s. But that means nothing. The White Horse has been open since 1880 and has since then gone through all the natural ups and downs -- whether its current status as a touristy attraction is a passing fad or not, whether it's a positive thing or not, the site is highly recommended.
It is still pregnant with the atmosphere that attracted all those icons of American culture (check out the GO HOME JACK graffiti on the wall, written as a message to the frequently misbehaving Jack Kerouac). And it's an integral part of the cultural push that made New York what it is today. If you are a fan of counter-culture movement, or its evolution in 1970s nostalgia, this is a site not to miss.
Just don't do the Dylan Thomas thing.
Pravda Bar
281 Lafayette Street (Lower Manhattan)

A Russian-flavored underground bar, the legendary Pravda has the distinction of serving the best vodka in Manhattan. It is a good idea to try one of their variations, whether it is their formidable White Russian or their dry martini (which is served stirred, not shaken, with Stolichnaya vodka, a drop of dry vermouth and two olives. Actually never mind this recipe. You cannot replicate them at home.)
You will not find it by any signs in the facade. It only has a red Chinese lantern. On the inside, it boasts a stupendously austere sense of decoration with signs in Russian. These two things (the light from the red Chinese lantern and the bare sings with Cyrillic character in them) create a highly evocative mood. Under the right dose of vodka, one might almost imagine those signs are tsarist ukases. Or better yet, revolutionary slogans.
But they read things like "Soup", "Starters" and "Sweets". Apparently they were borrowed from a self-service Russian canteen and were used to inform people which line they should wait in.
So it's better to not think about that.
P.J. Clarke's
915 Third Avenue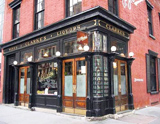 This bar if the last vestige of the times when this area of Third Avenue was an Irish worker's neighborhood. The L Subway (the grade level subway) would separate two lines of small (three- four-story) houses with bars of questionable reputation, pawn shops, hardware and grocery stores in the front floor.
It was during those times, either in 1964 or 1968 (experts can't seem to agree on this), that P.J.Clarke's was founded. It is now considered the oldest saloon in New York.
The neighborhood lived a real estate boom after World War II, thanks to the construction of the United Nations headquarters and the announcement that the L train would go underground. Everything changed. Except P.J. Clarke's.
That seemed to end in the late 1970s, when the all-powerful Tishman Realty Corporation bought the entire neighborhood to build a skyscraper (that would be the first in a long line of such buildings across the Third Avenue). All except number 915. You guessed it, P.J.Clarke's.
The saloon's owners staunchly refused to sell it and they were supported by a puzzling coalition of urban conservationists and cureless alcoholics. After several years of litigation, they got away with it. The skyscraper was built a few feet away from the projected site and the old building was saved.
It is a very attractive building. It used to be four stories big -- an old, square house in the style that, for unknown reasons, Americans like to call "Italian." It also something no cinephile can afford to miss. They are sure to get a deja vu from the interior. Billy Wilder's movie The Lost Weekend, starring Ray Milland, copied absolutely everything from P.J.Clarke's in their design for the film's Nar's Bar. The bar is exactly the same. The floor, the decoration, everything. Even the giant, sarcophagus-sized urinals.
Nowadays, however, it is only two floors -- the one above the bar is consecrated to burgers and fries. The walls are re-painted every now and then. Sawdust is only spilled whenever it rains.
One must adapt to new times.