New York is a whole state, and New York City is just part of it. A fundamental one, yes, but it would fatally remiss of any guide to not mention the advantages and virtues of the other cities that surround it. They almost seem to make up for the busy hodgeppodge of the City -- they are quiet, rural and decorous.
Or maybe they are just normal towns and comparisons with the very idiosyncratic New York City just makes them seem that way. Visitors can't seem to agree on this point. We have a guide that might help you.
History, Nature and Adventure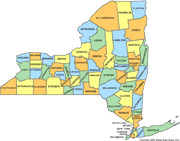 It's funny how many authors and documents use "New York" as a synonym for "Manhattan". It is a fundamental error that has in turn led to a culture where these three terms are interchangeable -- which has served as the foundation of Mahattan's chauvinism, an abrassive (yet not completely erroneous) line of thinking which a New Yorker called H. Alan Holgund brilliantly described in a letter to the editor of The New York Times as "that the main mission of Queens (and the other "outer" boroughs) is humbly to serve the needs and desires of Manhattan."
There is much to vindicate about the other cities of New York. Maybe not about all 62 of them. That'd be a job for a different guide. But the main ones, the ones with the most population in them, also happen to have any alluring attractions, whether historic or natural or both. For instance, we have Albany, which happens to be the state's capital. New York City might be all about the rock and roll, the rushes and the trends, but Albany is the restful place that makes all this possible. It also has a series of historic landmarks and buildings that will not only complement but define your perception of New York, not as a toursitic stamp or a cinematographic cliché, but as a real, paplpable city.
Other locations offer irresistible respites from the fast and furious streets of the City. Take New Rochelle, for instance, a favorite location of the upper class in the centuries past (and also in the present, but in a more homogeneous way) which boats a vast array of outstanding walking trails to exercise your body while giving your mind a rest in the solemn contemplation of nature.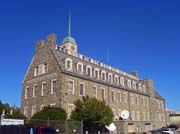 If you are venturing outside the city, you should also consider the virtues of Poughkeepsie, a city too cute for its own good that tried to be industrial in its early centuries, but it was just too beautiful to accomodate factories. 19th century millionaires were so attracted by its natural beauty that they used it as location for their weekend homes, and thus created a culture of respecting Poughkeepsie's natural landmarks. It has been so respected over the centuries that several of its mountains and trails still pose a risk for the casual walker. This is why the city is the preferred destination for so many hikers from all over the country, attracted to its endless possibilities.
There's a small city much farther from the city that's a story into itself. It's called Utica and, for the right kind of audience, it is more than worth the risk. It is, in its own way, the sporting capital of the world, home of the Boilermaker Road Race and the National Distance Running Hall of Fame. Not only is it full of icons from sports history, it is also full of possibilities in which to exercise.
Of course, it also has a very intriguing history of economic and social ups and downs (depending on the state of the city's industry and what immigrants comprise its population) that goes beyond anything found in the city.