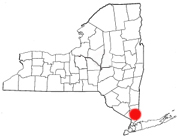 This "Queen City of the Sound" 23 miles North of New York City is East Coast leisure at its best. When you go for a little promenade across its urban areas, not only do you get to live and breathe the well-off, leisure-starved atmosphere -- you also get to see the evolution of History before your eyes.
But history, sweeping and painstakingly preserved as it may be, is a side dish here.
Restful, low-key, this is the perfect counterpoint for the fast and furious streets of Manhattan.
Best Walking City in America
In 1878, former Congressman Joseph H. Starin bought a string of islands in a then-modest, rural city in the South East of the New York state called New Rochelle. In them, he built a theme park called Glen Island -- one of the first to open to the public and the most luxurious of its time, with beaches, a Chinese pagoda, a natural history museum and a zoo.
It was a bona fide success. But what made methodical Starin personally proud was how clean, orderly and decorous his project was known for being. He would often boast of the "middle-class code of conduct" that would bridle the whole Glen Island experience.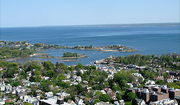 Not only is this one of the city's most iconic stories, the image it conveys -- well-off tourists being quiet on an island -- is the most accessible representation of what New Rochelle is.
City Hall fiercely pursues the preservation and restoration of its vintage landmarks (take the famous "Arcade" building in 541 Main Street for instance -- in 1997, the local government was ready to tear down its uncomely facade built in the 1960s only to discover a couple of exquisite 1897 banks of arched windows and vintage terracotta relief work. It was then carefully restored and left that way), which means that certain parts of its streets may strike you as living vignettes of either its rural beginnings as a refuge for French Protestants in the 1700's or its booming development as a self-supported, agricultural city throughout the 1800's.
Or its opening up to America via tourism in the 1900's (the first summer house was finished in 1855 and hosted guests like Charles Dickens). Or its subsequent peak as one of the most sought-after suburban communities for peace-loving New Yorkers who brought the money with them and made New Rochelle the third wealthiest city per capita in America in the 1930's with only 54,000 inhabitants. This prompted the construction of the beautiful Art Deco buildings the city is known for.
It wouldn't have been named one of the 100 Best Walking Cities in America by the American Podiatric Medical Association if it offer miles and miles of ravishing nature reserves and parklands scattered through several tiny islands that can make you feel as far from The Bronx as any Alaskan. This haven of peace and decorum is too cute to ignore. And it's the perfect medicine if the city's hyperactive animation wears you do.
New Rochelle citizens are so proud of their peaceful backwater they are in no rush to catch with the current pace of urban landscaping (or any pace for that matter), making it the ideal location for a walk you will never forget. Let us guide you through the different options.