It's not easy to imagine New York without the Statue of Liberty. The 305-foot-tall new colossus is so intrinsically associated with the Big Apple, it takes a pinch in the arm to realize that it almost didn't make it to do the New York coast. Lady Liberty's story is one of idealism, setbacks and the power of all New Yorkers setting out to fulfill a common purpose.
Read on to find out how the face to greet all immigrants and visitors in their arrival to New York became the one lady to had it hardest to set her (gigantic) foot on American soil.
Mme. Liberty Takes Manhattan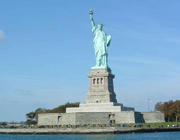 If you had money and lived in New York in the 1860's, the hippest thing you could do with your time would be to attend the many fundraising events to pay for America's share of a fantastic French invention, something they were calling the Statue of Liberty. Apparently was a project proposed by a young French sculptor called Frédéric Bartholdi, who must have been very excited about presenting any country with a monument to liberty because after America's initial refusal he tried Egypt and then America again. In fact, he fought for it over 30 years.
Liberty Marks the Spot
It's not that the idea was exempt of merits. The statue had everything: her goddess-like appearance linked very well with Europe's historic tradition. Her size would acknowledge America's unprecedented passion for all things big. It would make a national landmark and an emblem of liberty for the country that first implemented democracy. And at night, it would emit a divine beacon that would guide boats to the free coasts of the country.
But said merits were either ideological (and even if we don't count the fact that, between 1861 and 1865, the Civil War made it difficult to know exactly to what country the statue was being given to, building a monument to liberty might not be the best present to a country with such rampant slavery as America back then) or aesthetic (by far, the first thing that is neglected when a country hits an economic depression as the U.S. in 1873). And, by Bartholdi's design, the statue's site and pedestal had to be paid by America, which the Government never officially agreed to
The People's Lady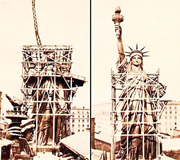 But the fact remains that buzz about the statue never stopped gaining momentum in the streets of New York (mainly because both Boston and Philadelphia had offered to pay for the statue if they could locate it in their coast). Newspaper magnate Joseph Pulitzer, de facto president of the movement, lobbied for support of the pedestal -- orphans would send in the money they had saved for the circus, old ladies would send what money they could dispose of... In the end, largely through donations of less than one dollar, enough money was raised and the pedestal was built on an island in the coast of New York.
By 1885, the project of the statue had been talked about for so long that expectations were wild. The donations had made New York City feel as if they partly owned the statue. Most of them (and part of their then-rivaling neighborhood Brooklyn, even if they'll never admit to it) stood in the New York docks in June of that year to watch the disassembled statue's arrival aboard the French vessel Iserère. Boats awaited at sea to greet it. Local pride on the project was huge.
Dedication Day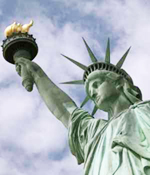 The Statue's dedication day, on October 28, 1886, was depicted by painter Edward Morgan in an oil canvas. Judging from it, the event was treated in true New York fashion -- like a full-blown holiday or a World Series. It marked the city's first ticker parade. Thousands of French and American flags were waved. Hundreds of rifles were shot to the air. Dozens of boats surrounded Ellis Island. Ticker tape was thrown out of windows.
"Extra heavily loaded trains, much behind schedule time, were the rule on every railroad entering the city," described The New York Times. "Every hotel was crowded to its utmost capacity last night, and there was hardly one of the better known hotels which did not have to turn away hundreds of would be guests."
The Statue of Liberty was going to stand majestically over the sea, staring at Europe and warning visitors this country took its freedom seriously. And then at night, the exciting finale: seeing the statue emanate a god-like beacon of light to guide incoming boats
Factually speaking, however, when that night arrived, the statue only emitted a faint glow that was barely visible from the nearby Financial District. Her exposure to salty Altantic winds soon turned her bronze structure to a shade of green. The statue was closed for renovation 20 years later.
It's a good monument to American perseverance.