Every city has its quirks and New York is twice the size of most cities. So while these museums may not be included in the must-see lists of most travel guides, they are a really interesting visit. You will not find anything that resembles them anywhere else in the world. Many people can claim to have seen the admittedly impressive MoMA. But how many can travel back home after a stay in New York and claim to have seen the Museum of Sex?
Here is a small guide to inspire you.
Museum of Sex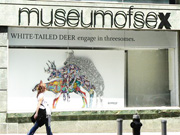 Anthony Comstock was a very special postal inspector. A zealous protector of Victorian principles, in 1873 he lobbied to personally supervise New York's public morality. This ambition took him as far as getting a Comstock law (forbidding pornographic material to be delivered through postal mail) passed. He also officially acquired police agent powers in his Postal Inspector position.
He wielded his power to prevent "lewd" magazines from getting published, destroyed 15 tons of books, arrested up to 4,000 people who either offended society by having unlawful sex or writing about, and eventually drove up to 15 people to suicide.
Fast-forward about 120 years for the world's most ironic twist of fate: the opening of a museum on 223 Fifth Avenue which famously carries his story. It's called the Museum of Sex, one of the very few museums that presents and explores human sexuality (and how it has shaped the world and our culture) through the years.
Despite protests from conservative and Catholic collectives, which have prevented the museum from being chartered as a cultural nonprofit organization, the Museum of Sex has a very complete permanent collection that revises the history of sexuality with a complete research library, media library (from the "illicit" erotic films from the early 20th century to sex in mainstream movies to modern pornography), an artifact collection of over 15,000 objects.
The most interesting asset of this museum, however, is the collection donated by Ralph Whittington. The now retired ex librarian at the Library of Congress found his first erotic magazine during a trip to Baltimore when he was 7 years-old and since then devoted his life to collecting erotic art and pornography. It has justly earned him the nickname "The King of Porn".
Museum of the City of New York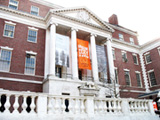 It may be hard to envision New York City as something else other than a concrete jungle of impressive skyscrapers and thousands of small shops. But here's a facility that will make it easy for you: the Museum of the City of New York, located on 1220 Fifth Avenue (between 103rd and 104th streets).
Its mission is to show the history of the city mostly through images (whether it is through paintings, drawings, prints or photographs), and it is a good way to gain some perspective about how far New York has traveled in its very young history.
When visiting it, pay special attention to a very old chair, which is said to have belonged to Sarah Rapelje, reportedly the first baby ever born in New York and thus, the first New Yorker in history.
Hispanic Society of America
Archer Milton Huntington was born a millionaire. As the only child of Collis Potter Huntington, founder of the Central Pacific Railroad, he was in fact one of the wealthiest babies of the 1870s.
He would mix with the Rockefellers and the Morgans and other elite families, but he was definitely different than them . For instance: he collected art just like them -- but where his fellows' investments had a decorative or social sense, Hungtinton had a very different ambition.
He wanted to buy Spain.
Even though by that time Spain was well in its way to decadence, the truth is Archer Huntington was wealthy enough to afford any eccentricity. And he found his calling in a book titled The Zincali, by George Borrow -- a wordy chronicle of gypsy life in Spain in the 19th century.
Since then, he became obsessed with Spain. So much so that he made his parents get him a Spanish teacher from Valladolid. He invested considerable percentages of his fortune in an extensive library of Hispanic-themed books. He also hired an Arabic teacher, only because he felt the Arab culture was deeply connected with the country of his dreams. He even went as far as learning medicine, because he felt he wouldn't find competent doctors outside of Spain's big cities. (That was actually pretty reasonable.)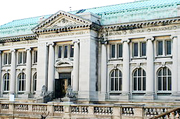 In 1892 he traveled to Bilbao. For the rest of his life he frantically delved into Spanish culture: he excavated the Roman ruins of Italica, bought the best libraries in Sevilla, acquired the oldest Don Quixote edition (a present given to him by J.P. Morgan's family), bought paintings, old maps, manuscripts, sculptures, antiques... He financed Spanish painter Sorolla, befriended the philosopher José Ortega y Gassett...
Ultimately, he never did buy Spain itself. But he certainly wound up owning a lot of it. So it is only fitting that this priceless, unique treasure would stay in a building located in New York's most Spanish-flavored neighborhood.
The Hispanic Society of America can be found in the Lower Washington Heights at 155 Street and Broadway. While the entrance and access to its unrivaled collection is free, it is a rarely visited facility. Which is something that works in its favor anyway -- where else could you stare at a painting by Goya or Velazquez on your own? Or observe a wonderful 1526 map of the world by Giovanni Vespucci (Amerigo's brother) where America is just the coast of Florida? Wandering its halls and examining its many unexpected gems is a pleasure that you can find in very few other places in the world
Visiting this museum may not expand your connection with New York or with America but it is a cultural experience that you will keep with you for the rest of your life.