The MoMA's impressive galleries became, for a few months in the middle 80s, in the best place to take your kids to in all of New York.
Instead of displaying Monets, Picassos and Warhols, the most important modern art museum in the world had a stuttering pig, an angry black duck, a relentless coyote, a tiny yellow bird and, of course, the world's most cheeky rabbitt.
The MOMA was invaded by the Warner Bros. characters
A City In a Museum
Think of this image for a moment. The Museum of Modern Art --a respected, time-honored institution, born from the utmost efforts of one of Manhattan's finest ladies, Abby Rockefeller (who set it all up without any help from her husband) -- making way for characters that are usually popular with kids. The Louvre in Paris, the Prado in Madrid or the British Museum in London would be pressed to find a similar situation in their history.
This is kind of the face value, no-nonsense New York has with art. There's a very visceral component to this city and it art fails to allude to it, it means the art is not working. Unlike other East Coast cities where the eyebrows are higher, New York is not particularly etilist, which is why it has been open to both more avant-garde arts sooner and better than many other places in the world, and also to any kind of museum.
This is not to be confused with a populist approach, although it has a populist element to it. This just a rejection of any art that fails to connect with the city -- a city that's willing to go an extra mile to learn and connect with the art as long as it's good and as long as it has something offer.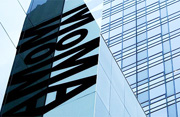 That's why the MOMA was the first museum to seriously acquire works by such diverse and important arists like Picasso and Matisse at a time when they were considered pretty much like the Warner Bros. characters. Right now the collection is one of the most impressive of the world and their mentality has evolved but hasn't essentially changed.
We also see a stunning array of museums no other city could have. New York is the only city in the world to have a museum dedicated to sex, or a museum that's both a monument to another culture (in this case Spain) and to its founder's failure to achieve his initial goal (in this case, to buy said country for himself).
Besides art, New York also has the American Museum of National History -- the place where most of America's scientific findings in most areas are explained through displays. Some of them are touristy sights like the very famous Blue Whale.
Others are less know, which means visitors are bound to be surprised no matter when they go there.