Remember Tom Hanks in the The Terminal? He played the clueless Eastern European who gets stuck in an extraordinarily large airport terminal, but since the terminal is so packed with facilities, like restaurants, stores and even a museum, he gets to carry out a normal day in it. Well, it doesn't take much imagination to realize this the JFK International Airport.
Since the best way to travel to New York is by flight, you are like to start your trip here. This will be your first taste of New York.
An Airport No New Yorker Will Forget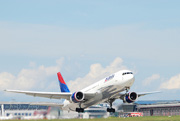 There is no underestimating the importance of the JFK Airport has been to New York. Handling about 58,500,000 passengers every year, it is the busiest international air passenger gateway to the United States. It contributes some $30 billion dollars to New York City, so it is hard to imagine that it has only been around for little more than a few decades.
But the truth is it wasn't even there a few years after it has been inaugurated. In fact, between its opening in 1943 and president John F. Kennedy's assassination a few years later, changing the airport's name seemed to be a fashionable past-time for New York's city hall.
It started off as Idlewild, in honor of the golf course it was replacing. It was an safe choice, a name that was already familiar to most New Yorkers and was short, efficient and memorable. But it was a safe choice, a temporary name that had no personality. Nonetheless, New Yorkers liked it, forgot the golf course and started associating the name with their airport.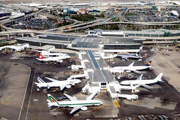 Then, right before its opening, the powers that be changed their mind and decided that the impossibly long Major General Alexander E. Anderson Airport was more adequate and had a better ring to it. And it would surely make the conversations between the pilot and the control base much more amusing. Truth be told, Major General Alexander E. Anderson deserved no less than an airport -- he was probably the last Civil War veteran who had fought in the South alive in the 1940s. Scratch that. He was probably the last Civil War veteran alive in the 1940s. In any case, New Yorkers, ever in their pride, would have none of a Major General Alexander E. Anderson Airport. They kept calling it Idlewild.
It took a few years for city hall to concur with them, but they eventually recanted. Five years later, they changed the airport's name to International Airport, Anderson Field. Which was an improvement as much as it was a grammatical challenge. New Yorkers kept sticking to Idlewild.
Then, 15 years later, president John F. Kennedy, perhaps the last Great President, definitely the most beloved one in the 20th century, was shot three years into his first term in a motorcade in Dallas (Texas). It took him very few hours to die. It took New York very few weeks to name their airport after him.
Nobody has called it Idlewild ever since.
Best Way From the Airport to the City: The JFK Airtrain
So the JFK Airport is in Queens, a fair amount of miles from midtown Manhattan -- which, let's face it, it's the first thing one wants to see upon their arrival to New York. Thankfully, there is such a thing as the JFK AirTrain.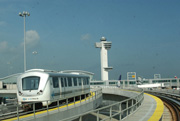 It is a 24-hour service that will take you from the airport straight into the heart of Manhattan is as little time as a public transport can take you -- 35 minutes. The process goes as follows: after you emerge from one of the terminals, start looking for the JFK AirTrain logo. You will have to go to Jamaica Station or to Howard Beach Station and once there, all you have to do is invest $5 on an AirTrain ticket.
Thoughtfully, the City of New York complements the ticket-selling vending machines with individuals that will sell you the ticket as soon as you get to those stations. Seeing the lines around those vending machines, it was a sound idea. Just don't think there's anything wrong or illegal with it. The AirTrain is supposed to be a welcoming experience to New York. Just check if the man is sporting a red jacket, and you will be fine.
Otherwise, you're going to have to buy your AirTrain ticket from the vending machines. Which is not a bad idea, if you ignore the lines forming around it. The machine will give you up to $17.75 in change (in coins, which then will leave you with the challenge of where are you going to spend them) if you pay in cash (U.S. dollars only) but it will also take any kind of plastic, be it credit or debit cards.
Now, taking the AirTrain is the best thing you can do if you arrive at JFK. This web site is not endorsed by the Port Authority of New York, but if we are to honor the truth, we have to recommend it. The same trajectory from any other means is simply less convenient: if you take the Long Island Rail Road instead, you can get there in 35 minutes just as well, but it will cost you $13.00, which is almost three times an AirTrain ticket. And don't even think about the subway: it will take you double the time (65-75 minutes) and more money (around $7.25).
Also, the best way to start your Manhattan experience directly in the beautiful Penn Station
The Lufthansa Heist
Louis Werner mustn't have been very good at gambling because at some point the late 1970s his debt had reached the $20,000 mark. Luckily for him, though, he was working as cargo supervisor for Lufthansa at the JFK airport, which every once in a while was entrusted with the job of transferring millions of dollars to Western Germany for tourists and servicemen. Even luckier for him, he owed the money to one of the men least scared of stealing so much money: a bookmaker called Martin Kurgman, who had close connections with the New York mafia.
After assembling a team with representatives of several mafia families, Louis Wener thoroughly assisted in the coup's planning -- the robbery of $8 million on 11 December, 1978. Now known as the Lufthansa Heist and as the largest cash robbery in history, it was surprisingly easy to accomplish. The mobsters went to the JFK airport at 3 am, handcuffed the security guard, took the money and ran in their van. Untraced.
Unfortunately for the dozens of men involved in it, the man in charge to dispose of the van got a little bit carried away on his adrenaline high and began to smoke marijuana. Which slowly evolved into an alcohol and cocaine-fueled rampage. He was awakened by the next day in his girlfriend's apartment by the police, asking about the incorrectly parked van in the door.
The greatest heist of the 20th century thus came to a sad end.