The Bronx has no skyscrapers, no ferries and no enormous allegoric statues. Which means its attractions are not easily accessible. Not less interesting.
Its main appeal lies in its character and in smaller things -- the personality imprinted in each neighborhood, the century-old stores. However, while you are discovering these, there are two specific things you should not miss.
The Bronx Zoo and Arthur Avenue.
Bronx Zoo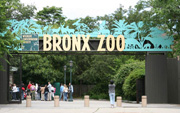 They are not as rare as the ones you will find in the subway, but the creatures at the Bronx Zoo are still a very infrequent sight for Western eyes. Many of 650 species found on its grounds, amounting to about 4,000 animals give or take a few deaths and births, are considered to be in danger of extinction. It makes a good case for visiting the zoo -- which, after all, is the last thing one might think of in a big city like New York, since zoos are available everywhere and many of them have their (you should pardon the expression) lion's share of the average animals.
That's not doing this zoo a disservice -- it has fantastic exhibits like the African Plains, the Baboon Reserve, a Congo Gorilla Forest and a Wild Asia Monorail. The Skyfari (a cable car that ran above the African Plains) had to be dismantled in 2008 after a malfunction left 37 visitors hanging 100 feet above the ground (and above lions and gazelles). Not that the malfunction itself was fatal. It was the ensuing lawsuits that killed it.
There is probably a pitch to be made for each zoo in the world. But none of them are as not be as special as the Bronx Zoo. The animals in it come and go (you may or may not find the extremely rare snow leopard that a shepherd found in Pakistan and donated to the zoo, which is bound to be released back into the wild at some point). But the zoo's personality will always remain remarkable.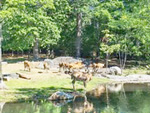 For instance, no other zoo in the world has spent decades waging a deliciously absurd war against those who consider it a zoo. For some reason, its owners were irked by the fact that the word "zoo" had a secondary meaning as a "place of rampant confusion". It was, they said, "undignified and injurious the the park". So they embarked on a media campaign (which mainly consisted of berating the media) to change its name to the Bronx Wildlife Conservation Park. Unfortunately for them, over a hundred years had passed since the zoo's opening and they found it impossible to change a century-old habit. So they had to officially declare it Bronx Zoo soon thereafter.
A few years later, they decided that two million were not enough visitors to the zoo every year. In their opinion, the fact that people only went in once or twice a year was a terrible mistake. So they invested $7 million on a campaign that recommended New Yorkers to release their inner selves (quite literally -- the ads had little girls turning into butterflies and little boys turning into wallabies and sea lions) and visit the zoo whenever they had some free time. Which might have worked in any other city in New York. But if a New Yorker needs to start repressing himself, he's probably not a New Yorker.
It truly is one astounding place.
Little (Bronx) Italy: Arthur Avenue with Belmont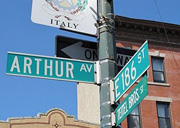 The community that rebuilds together, stays together.
This is only a partial explanation as to why this neighborhood north of the north of New York is so close-knit. There is also the factor of their Italian ancestry -- for many upon many decades, this was the Bronx's own Little Italy, even after the Manhattan Little Italy ceased to be Little Italy. Immigrants brought their community based culture here and that is why the sale of its apartments is never publicized but arranged in a worth-of-mouth manner. It also explains why there are about a dozen stores that are over a hundred years old, most of them still run by the same families that opened them.
The food is exceptional here as well. Visitors (including celebrities like actor Joe Pesci or Robert DeNiro, who set his directing debut A Bronx Tale in this particular neighborhood although he shot it in Astoria, Queens) come from suburbs, Manhattan, or even around the world to eat in one of about 10 Italian restaurants or shop in dozens of special food shops on or near Arthur Avenue. Their Italian market is also remarkable. All this embodies the area's Italian character -- so strong a trait that it even permeates the new wave of Eastern European and South American immigrants who have been settling there for about a decade now.
On August 15, the whole area welcomes the Ferragosto Festival, an Italian festivity which here is celebrated with a touch between the avant-garde and the camp. No other day epitomizes the most pleasant neighborhood in the Bronx like it.