If one manages to ignore the crowds and the commercial spirit that reigns most of them, festivals can be a very useful tool to get to know a city -- you can see what its inhabitants are interested in (generally, if a festival has survived for many years it is for a reason), and they usually congregate people from different corners of town.
Plus, there's something to be said about the vibe of being a special event that's taken months to prepare. Luckily, New York has an interesting amount of them.
New York Festival of Song

Songwriting. The art of rhyming, timing and liming. When it comes to music, it is America's turf. The country has had notable songwriters in practically every genre. The New York Festival of Song, usually celebrated after the arrival of Spring, celebrates this fact with a days-long song cycle usually focused on an aspect or a theme.
The most talented people from all over the city (and from all over America as well) gather for a series of top-notch performances of different genres, generally focused on a theme or a composer. It's a highly recommended affair -- inexpensive, elegant and more than professional, it's the reason why hordes of vocal music lovers travel to New York City around those days.
New York International Film Festival
Presented both by the Film Society and the Museum of Modern Art, this film festival is one of the most revered in America -- year after year, it staunchly support independent films by local filmmakers (although it's not opposed to good cinema at all -- The Social Network premiered there in 2010 and generated a lot of positive buzz), including Martin Scorsese, Julie Taymor or David Fincher.
Amalgamating the experimental with the more traditional, it has been an institution since it kicked off in 1963.
Gay Pride Parade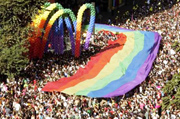 At 1:20 in the morning on Saturday, June 28, 1969 social rights history was made.
New York homosexuals -- then an oppressed minority that was persecuted by the Police -- were spending the night in the only (secretly) gay club in town. It was a shoddy, tawdry place with no running water, overflowing toilets and poor facilities called the Stonewall Inn. It was owned by the Mafia, who had disguised it as a private bottle bar. But at the time, it was all the gays had.
That night of June 1969, two undercover cops had finally sneaked in and, within two hours, had gathered enough evidence to call for back-up and shut the club. The consequent raid turned out to be particularly vile. Not only because of the violence exerted by the police, but because this time the homosexuals didn't lower their heads.
They chanted "Gay power!" and sang the patriotic standard We Shall Overcome and didn't flee the location as the arrests began, which is the most usual scenario in these cases. In fact, the crowd began to increase in number as more and more members of the gay community showed up. The police got nervous.
In that tense atmosphere, a handcuffed woman that had been arrested tried to escape, claiming she was being abused. That was the final drop that turned the raid into a riot. The 1969 Stonewall Riot.
It had a very ugly ending, with the policemen trapped inside the bar while the homosexuals hurled everything they could find at them. It made the headlines of all the major newspapers the next day. And, more importantly, it opened the gay rights debate for the first time in America.
This story started a yearly tradition in which gay activists march in front of what used to be the dingy Stonewall Inn, both in honor of those who once had to face persecution and to fight for their freedom and their visibility. Those marches evolved year after year and are now known as the Gay Pride Parade.
History notwithstanding, New York's Pride Parade is something to behold. It's now part of a larger event -- the New York City Gay Pride, which is echoed in almost every country in the world. It has parallel celebrations in each of the different boroughs.
As times finally progressed and the gays conquered more frontiers, its retaliatory nature has turned into a celebration of their rightful freedom and an expression of their sexuality. It doesn't take a homosexual to enjoy this week-long homage to freedom.
St. Patrick's Day Parade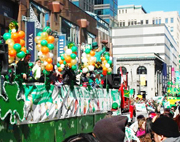 The undeniably strong Irish presence throughout the East Coast is particularly strong in New York. So it's no surprise that the city has been celebrating Ireland's best known holiday since 1766 -- predating even the formation of the U.S. themselves.
Even though back the celebration was laden with political significance (which was partly abated in 1780, when General George Washington gave his troops a day of rest in March 17 in observation of the Irish tradition), it is now one of the main events in the city prior to the spring. It was first celebrated as a parade in 1848 and, like most traditions in New York, it has just been getting bigger and bigger even since.
Washington Square Outdoor Art Exhibit
In 1931, starving artist Jackson Pollock made a desperate move to save his apartment in the Village -- he took some of his paintings to Washington Square Park and set them up on a sidewalk, hoping it would attract some buyers. He was joined by other, equally desperate artists and that spring day of 1931, a tradition was born.
The Washington Square Outdoor Exhibition is now celebrated twice a year: once on Memorial Day weekend and again on Labor Day weekend and it is a fantastic way of taking the Village's artistic pulse and gain a first-hand look at the evolution of edgy modern art. It's also a lucrative affair for both veteran and up-and-coming artists who, despite having to pay a fee to exhibit there, can make thousands of dollars just from the Exhibit's awards.