In New York City, the best way to tell a visitor from a local is to check whether they are looking up or down. Visitors invariably stare in awe at the skyscrapers around them. These vertical wonders do more for the city than being a signature of its skyline -- they are pieces of art.
They may not have the time-honored solemnity of museums, but they are more than worth some time from your travel. Somewhere in their steel skeletons, these giants hold no little part of New York's soul.
Towers of Babel
Manhattan is, after all, surrounded by water so the only way for the city to expand was up. Thus, it has amassed a vast and fascinating collection of skyscrapers which have given New York its distinct look and international fame.
Here's a small guide to the ones you should never miss.
Chrysler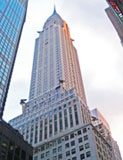 In 405 Lexington Avenue lies a testament to the importance of skyscrapers in New York City. As much piece of art as a declaration of principles, this riveting building was the first ever to break the 1,000-foot mark, officially making New York the skyscraping capital of the world. And it's been an absolute favorite among locals, architects and tourists ever since -- also one of the most acclaimed for its sleek, shapely design.
But its most interesting trait is the one furthest from your eyes: the beautiful ornamentation atop of it is what confers the Chrysler its proud character. Partly because of its top-notch Art Deco style and partly because of the story behind it.
When automobile magnate Walter Chrysler commissioned the building to architect William van Allen in 1926, he was thinking of a simple 56-story construction. Nothing excessively opulent. Just enough to make it just taller than the Lincoln Building on 42nd street and thus, the tallest building in the world. Back then you were no good at business if you didn't own the tallest building in the world.
Once the structure was complete, however, Chrysler learned that the Bank of Manhattan Building was going to be topped with a pyramid which would beat his construction by merely 26 inches. The magnate then showed brilliant discernment. He commissioned something, anything, really huge to put on top of his construction. Something that would surpass even the Eiffel Tower.
And it had to be done in secret.
Van Allen concurred and began working -inside the very building- on the assembly of the the now iconic crown, which he adorned with automobile motifs. Come inauguration day in November 1929, the ornamentation was raised from inside the building and placed on top of it.
The maneuver was perceived as a stroke of genius. It was executed in broad daylight, for everybody to see, and it only took two hours to make the Chrysler the tallest building in New York.
The Bank of Manhattan was belittled and Chrysler had his way.
Bankers, however, would have their revenge served cold 78 years later as the Bank of America raised the spire of their 1,200-foot tower on Sixth Avenue just over the Chrysler in 2007.
Flatiron Building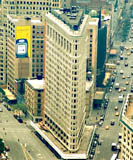 In 1901, the Fueller Company, a company specialized in building skyscrapers, wanted an original, attractive construction to bring the men from Wall Street to the then-desolate Fifth Avenue. What they got a year later would become one of New York's more classic sights -- a triangular, Renaissance-inspired wonder that majestically rises 285 feet from the Fifth Avenue's floor, connecting it with Broadway and East 22nd and 23rd streets.
It may not be made in New York's towery style but it's so classy and unique that it quickly became a local favorite and an obligatory sight. The Wall Street men stayed in Wall Street against the building's original purpose, but the new construction did provide New Yorkers with a colorful occupation: standing around the tip of the building and waiting for its characteristically unpredictable downdrafts and updrafts of wind to lift a woman's dress enough to get a glimpse. This created the expression "23 skidoo", which policemen would yell to warn women of such lookers.
It would go on to become the first truly national fad expression.
Woolworth Building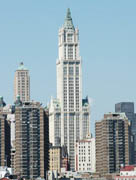 Located on 233 Broadway, this 792-foot-tall National Historic Landmark is commonly used as evidence of how skyscrapers are the cathedrals of our time.
By standing in front of it, you will be staring at the oldest skyscraper in New York City (it was erected in 1913). But don't be fooled by this title and notice the neo gothic spires that crown it. Then walk to the cruciform lobby and look at the stained glass windows, reminiscent of the paleo-christian style.
If that doesn't evoke the religious feeling, look for a gallery of bas-reliefs that, not unlike the big medieval churches, represent the building's patron saints: its structural engineer (Gunvald Aus), its banker (president of Irving Bank Lewis Pierson) and its rental agent (Edward J. Hogan).
You will see New York in a different light.
One Liberty Plaza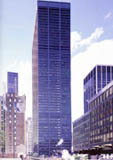 This black, 743-foot tall, 51-story black building can be found in lower Manhattan, at 165 Broadway. It may not be the most original or attractive skyscraper New York has to offer (perhaps the most bewildering) but it is worth a visit for the history it contains.
First, because after the attacks on the nearby World Trade Center on September 11, 2001, the ground floor of this building served as a temporary morgue. It is perhaps the most vivid way one can grasp the atmosphere the city lived those days.
And second, because that building occupies the space where one of New York's most beloved skyscrapers once stood -- the admired Singer building, demolished in 1968 because its higher floors were too small to hold offices in. It is a good exercise to go to Liberty Plaza and see images of it (they are scattered across the street), and imagine how the site would look and feel now had the original construction remained.