It is not easy to say what a hipster is. If you ask one of them, he will tell you that he is not of them. Their constant retro-feeding -- a hipster may copy something a trait from another hipster who is now rediscovering it ironically -- doesn't help either.
Part post-modern, part sick of post-modernism, they can only be identified by their most basic habits: Latte-sipping and speaking in pop culture references yet showing a staunch despise toward pop culture. And they tend to live in Brooklyn.
Williamsburg's Hipsters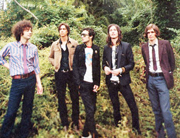 How an industrial, ethnic neighborhood like Williamsburg could become New York's (and thus, the world's) focal point of hipster is something that can only be understood through the story of Todd Fatjo.
In the early 1990s, he was one of the first young people to see the potential in Williamsburg. Like many other New York newcomers before him, he found rent in Manhattan too expensive and, much like the Hasidic Jews of Delancey Street, decided to go to the next closest thing. The empty industrial lofts soon became an affordable and spacious (and illegal too, but at that price, who's looking?) option to live in for many of them. But Fatjo's case was different.
Thanks to a job in a local record store as well as some gigs as a DJ, he could afford to share a massive duplex in Bedford Avenue with three other people. For $2,400, he had amenities like he could find nowhere in Manhattan -- skyline views, 14-foot ceilings and wood floors.
Maybe it was his remarkable skills as a DJ, or maybe his wild afro hair, but when he and his roommates threw a party, it became the talk of the town for days to come.
The Parties that Changed a Neighborhood
Coinciding with (or perhaps prompted by) this incident at the end of the 20th century, Williamsburg began to be the world capital of this vague yet influential trend known as hipsters. Very soon, the neighborhood was filled with organic restaurants and artisanal cocktail lounges. (If you ever feel a crave for 12 different kinds of bitters, the these are the places to go to.) And Fatjo became the front runner in this new, unexpected tendency. New enterprises like Thai restaurants began to pop up.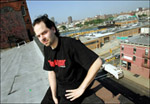 Fatjo now recalls about four other "major" subsequent parties being thrown in his apartment. "Major" being his definition of three different sound systems blaring away in different parts of the apartment. There is very little official record of his other achievements at the time, but his name is constantly brought up in the description of the city's rise as a hipster capital. Ssoon the New York Times was calling it "arguably the hippest neighborhood in America".
"If You've Been to a Party, You know, If not You Missed Out"
Fatjo left Williamsburg in the summer of 2004. Rivers of ink were written about his departure. Some of them were printed in major newspapers. But none of them were as eloquent and as illustrative on the young nature of "hipsterity" as the flyer he pasted on a wall in the Bedford Avenue mall. Here are the excerpts that have been gathered of it:
If you've ever been to my duplex loft you know how truly dope it is [amenities listed here]
Popeye's and Dunkin' Donuts on the corner, about four 24hr bodegas on the corner, 2 Chinese food places next to both entrances, and it's above and across from two $.99 stores." [Apparently, those who need to ask about the importance of having these facilities nearby will never understand it.]
Every party we've had was one for the books. If you've been to one, you know, if not you missed out.
So I guess if anyone is interested leave a message or call me.
BTW: The only reason I'm leaving is because my girlfriend and myself want to get a place to ourselves and this place is too big.
When asked who was going to inherit his hipster temple, Fatjo replied, "Just a guy with a job."
Apparently, he had not realized how much he sounded like one by the end of his historic ad.