It may be hard to conceive Manhattan as being cut off from the rest of the world, but, in a strictly geographical way, it is. This is why on-land transports are only a fraction of the wide variety of means New York has to offer. Riding a yellow-and-black catamaran that travels through water may not sound too conventional but its advantages may change your mind. If you want to impress your friends back home by telling them of something you did in New York that nobody else has done (which is difficult in such a tourist-friendly town), this is one of the activities you really should consider.
Staten Island Ferry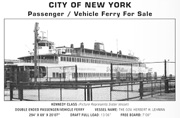 The existence of the impressively busy Staten Island Ferry is living testimony to the importance of family in a capitalistic world. Without his relatives, Cornelius Vanderbilt probably would have never transitioned from primary school drop-out in 1805 to the second wealthiest man the U.S. have ever known.
It was through his father, one of the many workers who carried individual travelers from the New York Harbor in Manhattan to the islands around it, that he began to work in the transportation business at 11 years of age.
Five years later, in 1810, he acquired his own vessel through money his mother gave to him and thus, the primary school dropout started his own line of work.
He then married his cousin, Sophia Johnson. Which possibly didn't have the slightest repercussion on his path to wealth, but it does illustrate how strongly the man felt about family.
In any case, seeing how another company had beat him in using a ship to transport people through the 5 miles of water between Manhattan and Staten Island, he put his brother-in-law John DeForest on command of said ship. In 1838, after becoming inconceivably wealthy by monopolizing the waters in New York with his steamboat fleet, he bought the company.
His family name became closely associated to that of the burgeoning Staten Island ferry for years to come. Until 1850, when he realized that future of transportation didn't lie in boats but in railways, and sold the company that controlled the ferry to his brother Jacob.
You don't need business associates when you have a next of kin.
The Ferry Nowadays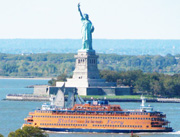 New York has an unwonted amount of "busiest", "biggest" and "tallest" records (worldwide or national) spread though its streets. But there is only one to be found in the waters that surround it -- this one. The busiest ferry route in the U.S., with some 20 million passengers a year (that's a weekday average of 60,000 passengers).
Most of them are commuters going to and from work every day. But it is not bad a idea for a tourist to take it (besides as an obvious means to visit the Staten Island borough) if only to ignore the tendency to observe New York City from the heights and gain a totally new perspective from the distance. From the ferry one can get an impressive view of the city's skyscrapers and really comprehend the monumentality of New York's architecture from a more natural perspective. Not to mention the very special view of the Statue of Liberty the route has to offer.
Also, it has been a free ride since 1997, making it a win-win situation.
Staten Island Ferry on 9/11
The 25-minute trip brings a unique opportunity for contemplation. Right after the September 11, 2001, attacks, when Lower Manhattan was wracked by chaos, the ferry transported tens of thousands of people out of the uncontrolled financial district to safety on Staten Island.
Smoke and debris were clouding the view all the way, but despite the zero visibility, the captains docked most of the nine ferries all the way to their destination.
They would not transport any more passengers for a few days afterwards. They were too busy serving emergency personnel and equipment to and from Lower manhattan -- it provided a lot of those images that define September 11 and yet aren't as notorious as the collapsing Twin Towers: try to picture these ferries, otherwise a model of decorum and tranquility, carrying U.S. Army tanks and military personnel to the area.
That image will give you a sense of just how integral the ferries are to New York.
Water Taxis
So they are as iconic as the yellow-and-black cars speeding through the streets of Manhattan, but it could be a matter of time.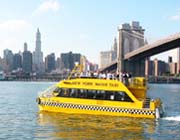 This relatively new fleet of two-level catamarans are painted just like the New York cabs and call themselves taxis for a reason: they offer special routes unavailable anywhere else along the Hudson River, thus enabling passengers to travel from one of the island to another in record-breaking time. They specialize in trips for the residential area of Northern Manhattan to the more business-oriented midtown, downtown and Wall Street areas.
While this is a private service, the type of results you get (excellent travel time, unparalleled views) are a reasonable match for their price as of yet (below $20 for two days of unlimited use).
Plenty of New Yorkers actually use them for commuting. Another intelligent employment of this service is reserved to summer weekends, when their Hop-On/Hop-Off routes are operative. This is especially designed for tourists, who can get off at a given location, explore it at will and then get back on the water taxi.
Their cabs are named after what the company considers to be heroes in New York's history. As is common in America, this means philanthropist millionaires that have paid for something to be used by the public.
If available, the best cab to ride is the one called Seymour Durst. Not because the car itself is any different, it's just that the name belongs to one the most incisive stories related to New York. It the name of the major real estate agent who got fed up with the economy in the 1980s and installed a National Debt Clock which kept track of the U.S. gross national debt and each family's share of the debt. In 2008, when the recession pushed the debt over $10 trillion, the clock ran out of digits.
If your economy is good enough to ride in the water taxi named after him, it is an appropriate way to homage the man behind the idea.