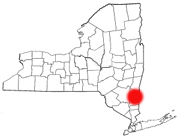 Originally settled by a Dutch called Barent Baltus sometime before 1659, Poughkeepsie is one the oldest settlements in the state. But history is not the city's most fascinating aspect -- unless we count as history the Native American word that gives it its name -- "U-puku-ipi-sing" very descriptively means "the reed covered lodge by the little-water place."
This means Poughkeepsie is nominally associated with nature. It's not a bad association. Surrounded by water and wondrous trails, it is every hiker's paradise.
The Reed Covered Lodge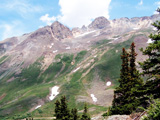 As the city evolved, its nickname evolved into "the Queen City of Hudson", which is also largely true -- and as benevolent as city nicknames usually are the U.S., too -- but not as much as its Native American name. For those who know how, Poughkeepsie is an excellent means to connect with nature. That way, it offers a sometimes needed from the hodgepodge of the city.
Common sense dictates that nobody would go to New York seeking peace and quiet, but that doesn't mean that those who need it must resign themselves. Poughkeepsie is but a few hours away from the city and yet it feels like it belongs to another side of the world. It once was a prosper whale rendering town, but the area's natural beauty actually prevented industry from expanding.
It became a go-to weekend location for the rich (the Astors and the Vanderbilts built very impressive houses in the area for their days off) and this "come-to-Poughkeepsie-for-the-nature" culture starded to expand. It lives on to this day, making it a hiker's favorite for its number of beautiful trails.
The City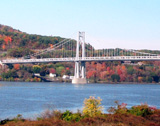 Go to Poughkeepsie for its nature, yes. But since you are there, there are a few things you can do in there as well. Like seeing the stunning Mid-Hudson Bridge, an amazing bridge which has the honór of being the first one that doubled as a musical instrument (in 2009, a composer born in Poughkeepsie called Joseph Bertolozzi recording several sounds from the bridge -- coming from wires attached to it which turned out to have the sound of an electric guitar and also using parts of the bridge as percussive instruments), something you can enjoy even today since its Bridge Music CD is still played in nearby parks.
You will also be in a town of vital journalistic importance -- you can go visit the Poughkeepsie Journal, a local newspaper which has been on print since 1785. It is the third oldest newspaper in the United States, the oldest in such a reporter-friendly place like New York, and the one to cover the ratification of the United States Constituion by New York; to give Franklin D. Roosevelt a push when the then-president was at his estate in nearby Hyde Park.
There's more to it than the Journal though. Poughkeepsie is the birthplace to Pulitzer Prize winning editorialist Mark Mahoney. And for more curious, it played a pivotal role in the Watergate stories written by Woodward and Bernstein (a series of historic exposes and eventually led to the only resignation by a president in the United States history -- that of Richard Nixon's): G. Gordon Liddy, which was a key figure in the whole story, worked here as an assitant district attorney.