A day in Brooklyn can be hectic enough for your body to demand a generous flow of proteins and calories to burn.
Doing so can also uncover one of Brooklyn's most amazing aspects -- its varied cooking styles, born out of the confluence of many cultures. If you are willing to try flavors imported from places you probably can't place on a map, you can leave the borough a worldlier eater.
Here is a little guide with how your day should go to maximize the experience.
Breakfast: Park Slope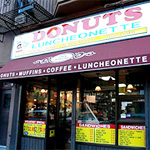 Park Slope, a neighborhood in the western section of Brooklyn, is one of the finest neighborhoods in America according to studies. So it's a great, tranquil way to start your day while munching on an all-American classic breakfast or brunch.
There's a establishment that looks as if it has been there since forever -- it's called the 7th Avenue Donut Shop (correctly located at 324 7th Avenue) and it will serve you the best crispy-bacon-and-scrambled-eggs breakfast you can find in the Slope. It would perhaps be a stretch to say it is the best in Brooklyn, but it certainly is the best for its very reasonable price. And the location is ideal.
If you are looking for something more exotic, turn to 317 9th Street for El Viejo Yayo (The Old Grandpa) and be ready to put with some questionable, floral-based decoration. The Caribbean-oriented menu will give the opportunity to start a day in Brooklyn with intriguing Colombian entrées that will certainly quench your hunger for the rest of the morning.
Another acceptable, if not excessively healthy option would be to go to the Kohzee Cafe & Restaurant at 396 Sixth Avenue, for its unrivaled muffins and pancakes at an affordable price. It will also increase your perception of the area, as it is modestly decorated. If you have a long ahead of you, it wouldn't be a bad idea to start with the peculiarly lavish burger. If you are on a tight budget, it will very easily double for your breakfast.
Lunch: Bedford–Stuyvesant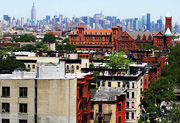 All the food that you don't know you like is being cooked every day at this neighborhood right in the heart of Brooklyn. Since it integrates half a dozen cultures -- breeding notorious personalities like writer William Forsythe, filmmaker Spike Lee, singer Norah Jones and astronomer Carl Sagan -- you can pretty much find any kind of food that you haven't tried yet and that's bound to surprise you. The area is bound to surprise you as well, since it is not Brooklyn's finest-looking neighborhood, or even its safest, but it has proven it can welcome you for a bite in broad daylight every now and then.
In its diversity, you can find African American cuisine (the unimaginatively called African American Restaurant is a good place to start and try their cassava, their carrots and their fish. Look for it at 218 East 170th Street), Jamaican cuisine (Pete & Pat at 704 Dekalb Avenue seems to be a good place for that and the menu rarely goes beyond $14), Trinidadian and West Indian (may we recommend Angela's Caribbean Cuisine at 417 Nostrand Avenue? Don't expect to see Angela though, even if you feel like congratulating her for her food) and Puerto Rican (you doubtlessly must go to El Castillo at 1227 Bedford Ave, even if you can't eat your food in it, it is perhaps Brooklyn's finest ethnic takeout). The neighborhood has been recently welcoming Indian flavors such as Bombay Heights in 1047 Bedford Avenue. It might be a good idea to try it just to get an informed impression of the area's culinary evolution.
You will forget you are in New York for a while. Which, understandably, you may not want to do while you are there. But your inner traveler will thank you.
And since you're in the neighborhood, you should take the music lover inside you to the spot where Bridel's records used to be -- a legendary music store where vinyl is stuff dreams are made of and where legends like famed Brooklyn rapper Notorious B.I.G. discovered the music that would influence their careers. When it closed, on March 2011, it had been a temple to music lovers for 67 years, fifty of which it spent under the care of a man called Joe Long, who closed it because he simply wanted to retire. If you have a rose to lay on facade, it will be a nice romantic touch. If you have an old CD case to lay instead, it will be a statement.
Dinner: Williamsburg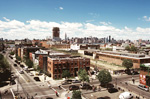 Williamsburg is the kingdom of the carnivores. So treat yourself to an exotic Asian barbecue (Fatty 'Cue will charge your batteries and have you ready for the Brooklyn Nightlife with just a few bites. The rest of the dish will be mere gluttony. But the good kind.), or to a chicken or burger the very homey Pies 'n' Thighs, where the home-made french fries will have you reeling for a while afterwards.
But of course, no meat experience can ever compare to the best T-bone steak in New York, which happens to be in Brooklyn. Suffice it to say the prestigious New York magazine Time Out used to have a Best Porterhouse Steak in New York category until Peter Luger's opened. After a few years of trying their T-Bone steaks, they decided to remove that category until it closed. Which, decades later, has yet to happen.
If you have had a light lunch, or you've let a prudential amount of hours pass until dinner, you can regale yourself with the best meat you will can find in New York City according to most travel guides. It is wise to make reservations beforehand, should a drought affect the meat's quality, forcing the owners to select who gets to eat their sweet, greasy treasure on a first-come-first-served basis.