The name Peter Luger only made it to history long after its owner was dead.
See, the name belonged to a German immigrant who founded a German-themed restaurant with that same name in Williamsburg, Brooklyn, in 1887. It did just fine. Business was acceptable thanks to the significant German presence in the neighborhood. It was closed after World War II, when Mr Luger died. And the name would have fallen into obscurity were it not for Sol Forman.
The Pot Maker Who Would Be a Chef
Peter Luger's restaurant remained empty for years. The German population had left. Nobody wanted an average-doing, poorly-located business which had no prospects of future.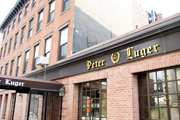 Not far from the area, there was a metal gift ware factory. It was owned by a man called Sol Forman, who had the habit of eating at Peter Luger's. Presumably, this is what provoked the a revelation. He would buy the restaurant, keep the Peter Luger name and become the king of the ultimate American food: porterhouse steaks. Also known as the much-desired T-Bone steak.
(In America beef steaks boast a special preference as a delicatessen. In their defense, beef in America is different from beef anywhere else in the world. Probably because of a law president Roosevelet passed to help vegetable farmers during the Depression -- cattle was only to be fed with seeds, not with grass. It gives American beef a greasy, sweet quality that's unique to it.)
Bringing the Meat to Brooklyn
The plan was outlandish to say the least. New York is a city of carnivores. Leave beef aside -- some of the best meats in America are guided towards New York City and its plenty of specialized restaurants.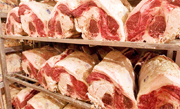 Forman, then nearing his fifties, had all the notions on cattle, slaughterhouses, quartering bovines and catering that any metal worker can have. That is, none whatsoever. And the locale was far from the New York scene.
But Forman was adamant to bring his plan to fruition. So he worked hard on it. Or rather, he made people around him work hard for it.
He hired a retired employee of the U.S. Department of Agriculture who had spent 40 years in slaughterhouses and had him share his knowledge with his wife, Marsha. When said professor died two years later, Marsha was an expert.
Grand Opening
That man must have been a good professor. Soon after Peter Luger's grand re-opening, Time Out, the prestigious guide to New York City restaurants, named it the best steakhouse in town. The next year, it did the same. A few years later, the magazine announced the removal of the Best Steakhouse in New York City category until Peter Luger's closed. Which, many decades later, is still not in the foreseeable future.
It is now a pretty much consensuated notion that Peter Luger's serves the best beef steaks in New York. A few people have stated that it is the best in the world, but because confirming such statement is a daunting task, we may never know. It's a sound statement, though.
Sol Forman's obsession for the quality of meat was considerable. In 2003, a severe drought affected how the cattle was fed. The restaurant only allowed to purchase a ton of meat per week from the Meatpacking District. For months, they only served meal to those smart enough to make a previous phone reservation. The rest of them had to settle for no beef, but a martini at the bar. If it was Friday night, at least they could look at the Orthodox Jews.
So until the next drought happens, it is a very good idea to regale oneself with this fantastic meat at least one time.
Just one thing: the waiter will ask if you want it rare (barely cooked), medium (cooked) or well done (self-explanatory). It's not wise to go for the latter option. The chef himself will go to your table and ask if anything's wrong.