Joe Santos didn't live in Brooklyn. Neither did Brad Eastbrooke. But, by coincidence, each of them started a gin manufacturing company at the same time, in 2010. And, not by coincidence, they both used the same name to convey their gin's originality and creativity: Brooklyn. They wound up in an ugly spat that has nothing to do with our story.
This provides an unusually clear example of just how much the symbolism of this borough has changed and just how potent its branding potential is perceived to be.
Friday Night in Williamsburg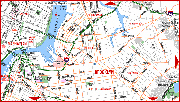 If you go to Williamsburg on a Friday night, you will see a remarkable amount of cords hanging from the walls in the street. Don't be surprised. They are put there by Williamsburg's considerable Orthodox Jewish population.
It's a peaceful way of informing the gentiles they live with (latinos are the other dominant demographic in the neighborhood) to keep it quiet and respect the quietness expected of a sabbath holy celebration. You see, Williamsburg is primarily Jewish.
A significant portion of the Jewish only community arrived to Williamsburg after the Williamsburg Bridge was completed in 1903 -- connecting Lower East Side residents with a peaceful and inexpensive new location. For a couple of decades after the Bridge's inauguration (during which it was known as "the Jewish runway"), most of New York's Hasidic community left Delancey Street to establish themselves in Brooklyn.
This migration had a roundabout effect: the departure of most of the Irish and German population in Williamsburg, who -- for one reason or another -- refused to share their lives with a community that, to their standards, was unpleasant to live with.
Be that as it may, walking those streets on a Friday afternoon, right before sunset, is a unique pleasure. Men with curls behind their ears and black frock coats walk quietly. Their wives and daughters, clothed in austere attire and covered hair, light up candles inside their houses.
On a sabbath, which starts the precise moment the sun sets on a Friday, all activity is forbidden: no driving, no using the telephone, no cooking, no working. Everything must be ready the day before. Again, walking through Williamsburg in the middle of all this miraculous peace is a magical, insightful pleasure that cannot be compared with anything else in the city.
And that's just the start of a night of wondrous activity in Brooklyn.
The Williamsburg Hipster Scene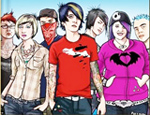 So Brooklyn has a notorious hipster scene. Blogs, travel guides and newspapers can claim so all they want, but the only way to find out is by witnessing the hipsters out of their just-groomed, fashion magazine looks and in action.
Try one of their distinct cocktail lounges, be served a specialty cocktail by a bartender in suspenders while your listen to either acid jazz or indie folk. You will resent your healthy eyesight for not giving the chance to wear black-rimmed glasses, but you will feel like one of the coolest people on Earth. At least you by cool people's standards. If you abide by them.
If you are not one for acts and like the real deal -- the real, tangible coolness, you can always visit Zebulon (258, Wythe Avenue), where music is treated as a religion and the small dance floor in the back is the altar where one pays its respects. Warning: You will feel out of place if you don't know your music from A to Z.
If you find this too demanding for a simple night out and just want to be left alone and enjoy your drink, you can always turn to the Duck Duck (161 Montrose Avenue), with no other amenities than couches and a giant window where people sit and ponder whatever people ponder whenever they drink in silence staring at a giant window. If you can't come up with any thought, there are always the orthodox jews to stare at.
There is a further alternative, however -- the ever-affordable, ever enjoyable Levee (212 Berry Street) with its reasonably-priced beer and plenty of entertainment in the back (darts are only the tip of the iceberg) and remarkably tasty snacks.
Algo Diferente: A Latino Night in Brooklyn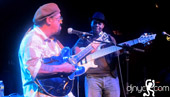 On April 2, 2010, a lot of New Yorkers scratched their heads looking up to the sky. There, circling in front of the city's skyline on a Spring Friday night, were two giant beams of light. It was the night the latin-flavored Alma Lounge, a bar with a slogan in Spanish that read "Algo diferente" was opening on the south of Williamsburg, on Roebling and South 3rd.
It was the night Latinos started to claiming their neighborhood back.
Historically linked to Brooklyn -- and specifically to Williamsburg -- the Latinos patiently put up with the sudden arrival of the latte-sipping, black-rimmed-glasses-wearing, organic-food-eating hipsters and the series of changes they brought along. But they want their part of the neighborhood. So over the year, a very gradual (if imperceptible for visitors) line has been forming between the hipster North and the more Latino South, Los Sures.
Which explains why it is in the South that you can find this Alma Lounge, in stark contrast to the hipster clubs -- ladies get in for free (and every group of five women get a bottle of Goose), men in baggy jeans dance and flirt with waitresses, there's a hookah section. It's a bar that caters directly to the neighborhood's citizens.
This corner of the neighborhood has a very different feel than the rest of it. Before shaking your hips to sultry latino rhythms at the Alma Lounge, you can enjoy an exotic, Asian barbecue dinner at the Fatty 'Cue (no more than $50), with its fabulous smoked crab soup, lamb shoulder, red curry duck and pork spare ribs. Also, the fabulous Pies 'n' Thighs, a beloved barbecue joint, will take care of your hangover the next day with a hearty, home-made brunch.
You will have to bring the Ibuprofen yourself, though.