The most authentic communities in New York have historically stayed close and closed.
Applying this aphorisms to The Bronx is interesting. While there is a uniform tone of fretfulness to a lot of its areas, its communities are fiercely local. And they have kept away from tourists pushing for them to be what they wanted them to be. This freedom has allowed for a natural refinement of what neighborhoods felt they did best. Among those things, food. Brace yourself for very special meals.
Breakfast: Riverdale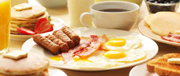 Starting your day with breakfast in a diner, you make it very hard for it to go wrong.
This why Riverdale is such a good option to start a good Bronx day. It is west of Belmont, which is where most of The Bronx's sights are, but it's also one of the quietest places in the borough. In fact, even to hard-core Manhattanites, who usually care very little about specific areas in other buroughs, know Riverdale is one of the most coveted neighborhoods in New York City -- mainly because it's so quiet. Which means that it's ideal for breakfast. Even if you are a morning person, but one of your travel companions may not be. Don't test him with noise and things he has to immediately appreciate.
Not that there's nothing to appreciate in Riverdale. You will find the restaurants on Broadway, and if you follow that street all the way to the north you will also get to the bars. There, you will find an interesting selection of breakfast options -- from muffins and pancakes to no-nonsense American breakfasts of bacon and eggs. There's the Broadway Diner, the Riverdale Diner or the Nonis Coffee Shop... the choice is yours. All of them will get your battery level and your spirits up.
Lunch: Arthur Avenue with Belmont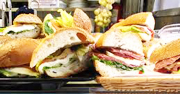 If Robert DeNiro and Joe Pesci and many other celebrities travel all the way to the upper Bronx, it must be for something. Not that the fact that they are celebrities would make them more right than anyone else. But these people are known to be busy. And they don't leave nearby. So, without using their criteria as a selling point, it is telling that they would come all the way to Arthur Avenue for a snack.
It's telling. But not surprising. If food was a religion, Arthur Avenue citizens would be its evagenlists -- supporting an illogical amount of Italian food stores, butchers, and pastry shops (thank God for outsiders who come and shop here and support them). We understand one does not travel all the way to New York to do grocery shopping, but there's a parricularly nice store called S. Calandra Cheese shop (2314 Arthur Avenue), which doesn't need storing. In fact it would be sacrilgeous. The staff will insist you eat whatever cheese you buy right there right then. That's how fresh it is.
This has kept the restaurants around them -- which, one pressumes, either originated or cemented this food reputation -- on their toes with the food quality. While venturing into the great unknown is the best thing you can do in this neighborhood, this is after all a travel guide so be aware that the best restaurants in the area are Mario's (on number 2324), which serves Neapolitan food like they invented it; Dominick's (number 2335), which will cooking anything you feel like eating and then make you feel embarrased that they improved your own idea; and finally there's Pasquale's (number 2311) which can turn pasta into a gourmet dish.
Maybe it's best to leave lunch here for your final day in New York. It'll make the rest of the food you eat anywhere else pale in comparison.
Dinner: City Island
There's something to be said about witnessing a sunset as you walk on a bridge for a maritime location -- such as this pocket-sized island which still belongs to The Bronx even though it is its very own thing. Being past even Westchester, it's not close to New York City's neuralgic center, so going if you are not spending the whole day at the Bronx is not the brightest idea. But you are by the area, you are in for a treat.
This quiet, too-cute-for-its-own-good community has long-standing tradition of great sea food, which simply goes down better at night (and preferrably to the salty smell of the sea, but let's not ask too much of restaurant owners). A local speciality involves a baked potato and iceberg lettuce accompaniment, but the jewel of the crown here lies in the sea food. Artie's Steak & Seafood Restaurant (394 City Island Avenue), for instance, offers the safest choice -- rarely brilliant but never bad. Local favorite The Black Whale (279 City Island Avenue) is also nearby with a wide selection of food both from the sea and the land. Their selection of over a dozen desserts seems to be what has kept it in business for years.