As much as New York City likes to defy conventions and reject fads that are sweeping the rest of the country, it's still one of the best-equipped cities in America to enjoy an evening of popcorn entertainment with the latest Hollywood blockbuster.
After all, urban New York was one of most important cities in the film-watching boom of early 20th century, when all over the city real temples were erected around enormous screens to fantastic success.
Movie-Watching at its Finest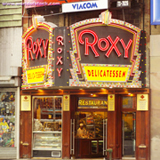 They were called movie palaces and New York had the best of them in the world -- they would alternate showing movies with vaudeville shows. Unfortunately, most of them are now demolished. Their popularity waned with the appereance of television and other forms of entertainment, which meant the end for iconic and beloved movie palaces like the Capitol, the Roxy, the original Loew's (the brand has evolved into a successful franchise of multiplexes all over America) and the much-admired Beacon (which still stands, but has been transformed into a rock concert gig).
However, many of those venues are still alive and well, and act as high-flying first-run movie theaters. No matter what blockbuster you set out to see, just being around the vintage decoration and absorbing the film-filled atmosphere they accumulated for centuries will make it an experience you won't want to leave New York without.
Radio City Music Hall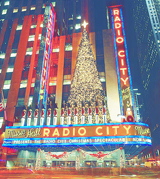 For 45 years after its opening on December 27, 1932, this beautiful Art Deco construction alternated the screening of movies and the hosting of variety shows. Then it more or less died.
This theater had everything going for it -- major motion pictures were released in it, it had 100-foot wide proscenium and a 66-foot deep stage. It even had its own organ, a Wurlitzer with twin 4 manual consoles and 58 ranks. But, as it happens in the world of the media, the smaller fish ate the bigger one. Movies themselves killed the magic of variety shows and then television killed the magic of movies. Radio City Music hall was reconverted into a stage for special events and concerts. And then it was abandoned to its decay.
It wasn't until 20 years later, in 1999, that the powers that be spent $70 million on the restoration of this magical, iconic place in the middle of Times Square. The theater recuperated all of its original opulence.
The only thing missing from it now is Barbara Stanwyck.
Ziegfield Theater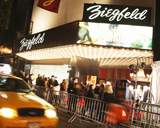 Florenz Ziegfield knew how to entertain you. And, more important for him and his family, he knew how to get paid for your entertainment. He created the famous Ziegfield Follies, which had many girls scantly dressed and loudly belting for almost 30 years. They were highly succesful. So it was only natural that this visionary of the world of entertainment (the follies the oft-cited gap that bridges vaudeville and Broadway shows) would eventually put his vast resources into the creation of his own theater.
So natural, in fact, that he built two. Only the latter one stands now, after opening on December 1969. It is the youngest of the movie palaces built in America (by the time it opened, movies were deep into their decline while the American population were busy watching Star Trek and other things on the small screen).
The theater tried to fool itself -- and its pubic -- that going to the movies was still an important event in people's lives. Something out of the ordinary. It succeeds. Walking into it is like crossing a time portal back to a time when movie theaters still had a raised balcony, there were hundreds of seats and there is red carpeting and gold trim in the entrance.
Cliche as it may sound, you don't need to see a movie to come to this theater. It is its own spectacle.
Coliseum Cinemas
If you need a reason to visit Washington Heights, or even the uniformly residential Upper Manhattan, this theater is it. When the Coliseum Theater opened in 1920, it was the third largest theater in the United States -- a stunning, modern 3,500 seater that was under the management of RKO (the Hollywood company behind countless sci-fi movies from the 1950s onwards as well as Citizen Kane). It used to be the place in which to see shows -- the Marx Brothers, Eddie Cantor, W.C. Fields... Any comedian that ever made it to history used to act in it.
After that it has struggled for survival with moving insistence. It has endured all types of transformations: It was made into a triplex in the 180s after slowly agonizing due to audience deficiency; it was turned into a duplex; its beautiful ornate ceiling was removed; it welcomed retail stores inside; it has been put of business and again; and it has been a quad.
It was finally closed in 2002. It only lasted two years that way. In 2004, the New Coliseum Theater triumphantly opened. And then, to much less fanfare, its name was changed to Coliseum Cinemas.
Times change. Those who change with them survive.
Lafayette Theatre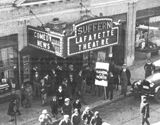 When architect Eugene DeRosa was comissioned to design a theater to be located in downtown New York, he decided to explore his French and Italian Renaissance influences and then mix them with a "Beaux Art" style. It was, presumably, the last time the Lafayette Theater looked back. Ever since then it has been mutating to adapt to the times.
When his work opened in 1924, it became one of the most profitable constructions in New York. It was a staple of entertainment. It was one of the few theaters taht kept growing in its prime. In 1927, opera boxes were installed. It was among the first theaters to embrace talkies as people would call movies with sound. In the 1930s it welcomed an air-cooling system.
When the television debacle began, it frantically began to embrace change it all directions -- CinemaScope, stereo sound, 3-D (which, in 1953, was stil far from its Avatar quality), widescreen... It was no small effort, but it garnered no smalled results -- movies seen at the Lafayette Theater were called "The Miracle You See Without Glasses!".
This process faded towards the 1960s. New York city was losing its glamor, people were moving to the suburbs and, again, television was more much more affordable and innovative. The Lafayette theater fell into decay, although this also translates into "it was left alone during the movie theater massacre of those years, where fantastic, ginormous screens were divided into several smaller ones."
In the late 1990s, when the most of its fellow palace theaters were under renovation or re-opening, the Lafayette was deep into disrepar. And then a man bought it. His name was Robert Benmosche and he was the chairman of MetLife insurance. He somehow saw potential in the decaying theater. He must have been a very romantic man. He ordered immediate repairs to the roof and exterior. It didn't stop there. The whole interior was refurbished 1930s style. It's almost as if the theater, ever eager to keep up with the times, was traveling back to its old splendor.