In 1904, traffic had become a problem in New York's most important street. Cars and carriages would stop all of a sudden to admire the beautiful carbon lights that the theaters in the area had begun to display. Originally, the idea belonged to a savvy theater owner who was showing a play called The Red Mill and had decided to imitate the revolving arms of a windmill with a new invention called electricity.
Soon every other theater copied the shiny billboard idea
New York Theater Sings
Since this was the street where all the important theaters in town were located, Times Square became a resplendent beacon of light every night. It was called "The Great White Way". Or, as we know it today, Broadway.
What is Broadway All About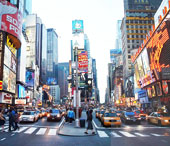 As the flashy electric billboards suggest, Broadway is a place where things happen in copious measures. And that larger-than-life drive that New Yorkers seem to crave is best served in musicals.
In fact, with a few notable exceptions, the genre most linked to New York is the musical. Whether finger-snapping jazzy or heartfelt dramatic, every story uses its score to sound bigger. Its genuine mass appeal has turned the city into the theatrical capital of the world.
There is a healthy amount of plays that are more subdued, but they just don't feel at home as much as musicals. And that's the way it is even though nowadays the cost of tickets have made it almost an exclusively touristy activity. Because every year, Broadway sells half a billion dollars a year and that's what keeps the city going. So when you are thinking of theater in New York, think Broadway. Do Broadway.
The Long White Way
Musical theater is so engraved to the soul of New York that you can follow its history without missing a beat of the city's history: It boomed in the Roaring Twenties as did all of the major American enterprises; it bombed in the 1930s with the Great Depression and was on the verge of disappearing.
After World War II (which was well-documented in a string of plays of the time like South Pacific), the economy went up and both New York and musical theater started to shine. New York City grew in importance and 1943's Oklahoma! redefined the genre.
And just as New York became too crowded and expensive to keep accepting Ellis Island immigrants, Broadway too kept growing, becoming too expensive for the average theatergoer and too successful to make room for new shows.
Then came the 1970s and New York saw a rise
Things took a turn in both fronts a decade later -- New York found mayor Giuliani clean up its streets and Broadway acquired two assets that were just as indefatigable: Andrew Lloyd Webber (Cats, Phantom of the Opera) and Disney (with the mega-costly but mega-succesful Lion King and Beauty and the Beast).
Now both the city and its main street are of vital importance to the develop of their respective worlds. Both just as busy, as expensive, as unique and, yes, as fascinating.
in crime and a decline on the safety of its streets. Broadway was one of the more affected: sex shops, prostitutes, drug addicts and men seeking sexual encounters of any kind began to populate it.
What to See On Broadway
The theatrical landscape changes every season and, more often than not, several times per season. So the best way to find out what play is the hottest, or most suited for you at the time of your travel is to ask people.
It's not advisable to judge by the billboard's size of by the marketing presence. Locals may not go to the theater as much as they used to, but they know how it works and they know what is the biggest trend of the moment and they know why.
Cheap Broadway Tickets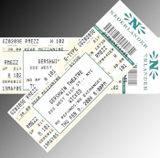 Quality theater doesn't come cheap.
Ever since Broadway was resurrected in the 1980's-1990's, ticket prices have skyrocketed in a way that a whole subculture of re-selling tickets for cheaper has developed. Both online and onsite you will discover a lot of people to trying to make a quick buck by either selling fake tickets or end up charging you too much.
Broadway producers became aware of this and offered a practical solution: the rush ticket system. It's clean, it's legal and it's effective: everyday, a certain amount of tickets are saved for that same day's performance. They are sold on a first-come-first-served basis with a considerable (50-80%) discount.
All you need to know is what show you are watching and that box offices usually open between 10AM and noon on Broadway. It's the best way to start your day -- by ensuring yourself a seat in one of the best night activities New York has to offer.