In the film world, New York means independent movie making territory -- no other city in America, and very few in the rest of the world, conveys such a devotion to alternative, foreign or arthouse releases and re-releases.
Although all of the arhouses theaters in the city offer a very solid selection of film) it is best to know beforehand which are the veteran, trend-setting places where the most demanding theater-goers get their dose of quality cinema under state-of-the-art conditions.
Film Forum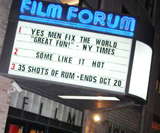 The indefatigable dean of American non-profit movie theaters, the Film Forum is the place to go when you need a first-rate movie kick -- focused in premiering the best American and foreign art films, it also has room to rescue some landmark films from the vaults and, no matter how old or what nationality they pertain to, show them in the retrospective section of their programming. That being said, be prepared to sacrifice some comfort, as the theater's seating doesn't allow for much legroom.
You can find its current, 3-screen theater in the Village (209 West Houston Street) which multiplies the dinner and entertainment options you can do afterwards -- if the gourmet selections are the theater's concession stand don't do it for you, that is.
Film Society at Lincoln Center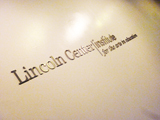 You can watch great films here, but more importantly, you can breathe them. Whether you are attending one of its thorough symposia and witness the film being picked apart by a group of experts, or whether you catch one of the high-profile events in which a movie's makers discuss it in front of an audience, it will be near impossible for you to leave the theater (at 70 Lincoln Center Plaza, right by the Metropolitan Opera) without learning something new about the art of filmmaking. There's also an irreproachable program of screenings from promising new releases to extensive retrospectives almost every night of the year (which you can later comment with fellow filmgoers at the theater's cute café).
And then on late September, they present the distinguished New York Film Festival (generally rejecting Hollywood titles in favor of local efforts, but never opposed to premiering a movie if it is good) as well as the New Directors/New Films Festival in the spring. And by Memorial Day, they usually celebrate their yearly Gala Tributes, in which every year a different film-related personality is honored (a tradition that started in 1972 and which has honored names like Francis Ford Coppola, Clint Eastwood, Martin Scorsese, Billy Wilder, Barbara Stanwyck, George Cuckor or Charles Chaplin).
Museum of the Moving Image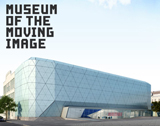 Probably known better for its impressive collection of film, television and video memorabilia (ranging from The 'Gone With the Wind' Cookbook of Famous Southern Recipes to a Star Wars toothbrush holder via tons of miniatures used for special effects in mainstream movies) than for its arthouse screenings, this museum is more than worth the trip to Astoria, Queens (where it can be found at 35 Avenue at 37 Street). Not only is its perennially updated, ultramodern theater filled with an intoxicating atmosphere or old projectors -- it is also the most adequate site in which to discover the solid entries of their programming. Also consider assisting to one of their special events, which involve very well-known authorities on arthouse movies.
Museum of Modern Art (MoMA)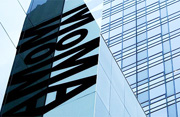 You can also claim to have some film and photography notions. since you can find an impressive array of stored films (There's the obvious, Film School student favorites like Vertigo or Citizen Kane, but there's also other less predictable ones like Andy Warhol's Empire, a cinema verite exercise in which the Empire State Building is filmed by a still camera for eight hours). In total, the department of Film and Video has hoarded about 14,000 films.
So obviously, they put their movie screening rooms to use with films from any time and anywhere in the world of different genres. It is always useful to know which cycle each screening pertains to, as their enrich the experience. And most times, they are tied with the exhibits, which is an experience you can only get in New York. Screenings held in the Gramercy Theater on 127 East 23rd Street.
It's not unusual for the Museum to screen current mainstream movies (usually in advance screenings) selected by the Museum's curators. Since the screenings are reserved for MoMA membership), they include added bonuses like bringing the movie's director, producer or screenwriter to discuss their work with the attendees.
The MoMA also supports up-and-coming local filmmakers its support by lending their brand to the prestigious New York Film Festival.