In New York, the queer quotient is inordinately high. Not matter how hard the collective conscience has tried to associate gay fun with San Francisco, New York is still the favorite destination for those who want to spend a good night in even better company.
That's why we have prepared a guide for you to check with the areas where the real action is taking place.
Enjoy.
Welcoming the Night: Hell's Kitchen
Nevermind its name. Nobody knows where it comes from (although the neighborhood was certainly far from celestial a couple of centuries ago. There's a wonderful, if improbable, anecdote about two policemen, a veteran and a rookie, watching a riot in the area. The veteran said, "This place is hell itself." The rookie replied in an impressively philosophical manner: "Hell's a mild climate. This is Hell's kitchen."

But that's not the case here. This delightful neighborhood (which encompasses streets 40 through 50 West of 8th Avenue) is particularly pleasure to visit on weekends to spend a weekend afternoon (especially if you have nothing planned for the next day. You'll see why in a minute.) Start on 9th Avenue between the 50s streets for some excellent bars and restaurantants. Check if Thai Basil, on 860 9th Avenue, almost on its corner with 56th, is open that day -- you can very easily top that dinner off with a drink at Therapy (348 West 52nd Street, almost on the corner with 9th Avenue), Vlada (331 West 51st between the 8th and 9th Avenues) or the nearby Ardesia (510 West 52nd Street).
The Night Starts: West Village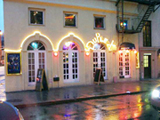 Let's put it this way: you have been walking in a gay neighborhood, enjoyed some lovely food and had a drink or two in a bar full of promising guys. What to do now? A mistake. Obviously.
Not that it will seem a mistake at the time. And we wouldn't be encouraging you to do it if it was fatal. But there's a simply irresistible bar really near by that will warm you up for the rest of a long night ahead. It's called The Duplex (61 Christoph Street, near 7th Avenue), a bar that will serve you what will seem to you the best cocktails in Manhattan. And then it will make you sing. Like there's no tomorrow.
The Duplex is a three-story musical bar with a piano and plenty of singalong. Brush up your Broadway musical culture, go downstairs and regale your audience with all you got. We would advise the stage shy to picture everybody else is one their underwear, but that might have an averse affect.
Just don't forget that New York has a very strong musical culture. Good singers abound. Even when drunk.
Sing with caution.
The Night Thickens: Chelsea
It would be unfair for a lot of New York areas to grant Chelsea the title of New York's neighborhood. But if such a thing existed among such a diverse variety, it would be a strong contender. Especially in 8th Avenue, which specializes in the gay lifestyle -- shopping, wining and dining.

But right now your interests lie elsewhere. Maybe the Splash (50 West 17th Street) can satisfy them. This club may be a veteran of the New York gay scene, but it has not grown up one bit. The boys dancing in those 10,000 square feet have not aged one bit and still as high-powered as the were when Splash opened in 1991 -- the club's own energy is also as fresh and intoxicating as it was at the beginning, with state of the art video projection and a blaring sound system that has never stopped dictating its tireless costumers how to jump and dance.
If you don't lucky in that spot, that's not a problem. Beofre you leave Chelsea, you should also check out the G Lounge (225 West 19th), the gay club that made the rest of gay bars come to Chelsea. Its not as exclusive as the Splah, but it has a remarkable main advantage over its palatially spacious competitor: it gets crowded easily. If at this point of the night you feel like some body against body action (which happens to be the best conversation starter), this is the place to go.
The Night Ends: Brooklyn
Yes, Brooklyn. What you have you got to lose at this point anyway? Take the subway, take a taxi, or ride with any new friends you might have made and take the party to the hippest nightlife in the Big Apple.
Hip is not, however, what you will get at the prime gay spot in Brooklyn -- the Excelsior (390 5th Ave) is rather full of kids from the Hamptons or older men. At least as full as this spacious bar can offer. Let's take an educated guess and assume at this point your body responds well to good music -- well, you've come to the right spot. It also has an indoor patio with endless possibilities.
The Excelsior is a neighborhood gay bar, and as such it tends to attract more locals that foreigners. And as such, it tends to be more real, more relaxed and authentic than any of the major bars in the area. Its flavor is something to taste before you go home.