What should it matter to Poughkeepsie that it can't compete with New York City in the urban sphere? It has something that nobody else has -- priceless natural beauty.
Its bouldered outskirts hold dozens upon dozens of wondrous mountains that make it a perfect travel spot for the avid climber, as well as the avid hiker who will find pleasure in the ever-exciting trails below the treeline. Here is, in any case, a description of the basic ones you'll be glad to not have missed.
Appalachian Mountains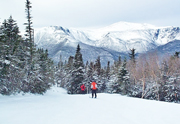 It wouldn't fair to give Poughkeepsie credit for the Appalachian Mountains -- after all, this incredible system of mountains spans for 1,500 miles through 15 states and is an emblem of America's vast and beautiful geology. However, Poughkeepsie can (and is) proud of their share of the cake. They can boast to have a beautiful area composed of a myriad of mountains in which visitors can get in touch with nature through a pleasant couple-hour hike. There far too many mountains to name -- some organizations can't even agree where one begins and the other ends -- so the best is to just drive around and take in the rapidly-changing landscape which comprehends lakes, grassy areas and arid zones that range from pebbly to downright craggy. Since some portions are best left for the professional hiker, it is best to take the experience as its own reward and wander freely through one of the best landscapes America has to offer.
Catskill Mountains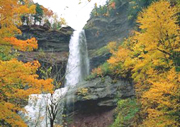 Considered by some to be an extension of the Appalachian Mountains even though they are not geographically related, this beautiful dissected plateau does partly connect with Poughkeepsie. They are a beautiful 6,000-square-miles piece of land, much more walker-friendly than the Appalachian. In here you can find such breathtaking views as Slide Mountain -- grassy areas with a bright, almost fluorescent green that could almost rival with the British countryside; the Kaaterskill falls, which allows for a graceful, 250-feet curtain of water falling through the rocks; or the extraordinary Platte Clove, a 1,200-vertical-feet valley created by glacial action. You'll have to ask somebody to convince you that you are mere miles away from the biggest city in the world.
The Appalachian National Scenic Trail
Like so many other Americans, Benton MacKaye was a man with a dream. In this case, it was to connect two high peaks of the East Coast 14 states apart. Luckily, he was also one of the most eminent foresters and environmentalists in America, so when he published his project "An Appalachian Trail, A Project in Regional Planning", a Government-friendly engineer called William A. Welch helped him get some recognition and eventually enough support to get his dream started. This happened in 1923. Several mishaps and hiatuses later, on August 14, 1937, the mammoth 2,179-mile-long path of protected wilderness was finished. Naturally, hikers all over America began wondering who would have the stamina to conquer such a titanic challenge. Turns out many did -- many do -- as an Appalachian Trail hiker culture soon emerged and people started to compete with each other to see who was fastest (the 2005 record of 47 days and 13 hours remains, as of today, to be broken) at crossing the longest trail in the world.
The trail connects with Poughkeepsie, making it one of the few world records one can get in New York but not in New York City.