Shuffle Along wouldn't be an interesting play to watch nowadays. A small-time musical about two corrupt politicians fighting for 20 minutes, its dense of political satire would now seem dated. But its premiere in 1921 changed New York theater history forever.
It was the first play ever with all-African American cast (social rights were unheard of then). It was also the first hit musical that didn't originate in main street, but off Broadway.
Hence it's importance. It created Off-Broadway.
What is Off-Broadway?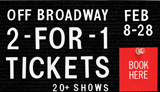 Off-Broadway is only a physical place if all of New York besides Broadway can be considered a place.
Three-quarters an idea and one-quarter a brand, Off-Broadway is the rejection of the commercial main street ideals, an alternative to commercialism, uncompromised artistic integrity (as well as a homely refuge for those who can't get their shows on Broadway) that is supported by any theater in the rest of New York.
Originally, Off-Broadway plays were seen all over the five burroughs (as an evolution of the decaying burlesque) but right now it's mainly focused on theaters in the Village around. This has prompted the creation of Off-off-Broadway, which refers to theaters outside Broadway and Off-Broadway (i.e., The Village) and that call themselves even more alternative.
Off-Broadway is a kind of alternative theater, but calling it that way would be a misrepresentation. From a technical standpoint, Off-Broadway theaters have a contract that defines them as such, and it states that they must adhere to a certain sets of rules (be a professional theater, have a seating capacity between 99 and 500) and follow the Union and Guild's principles. Anything else is unofficial and therefore deemed too confusing to compare it to legitimate productions.
Off-off-Broadway doesn't have any kind of contract.
Off-Broadway Origins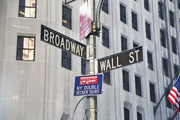 Once the most popular genre in town, the burlesque and vaudeville suffered a decline in attendance with the arrival of 20th century. The theaters that hosted those shows, however, were still standing all over town.
Unable to compete with Broadway for spectacle, it was more or less generally accepted that the most useful thing to do with them would be to experiment and to push the boundaries of mainstream theater. Hence, from the 1910s onwards, challenging dramas were performed by such devoted groups as the Washington Square Players, the Provincetown Players or the Neighborhood Playhouse.
By the 1950s, when the Beat generation had developed its anti-establishment spirit among New York City's neighborhood, it became the go-to place for real, undefiled drama. Of course, the musical genre had taken over the American theatrical scene by then, so it was only natural that Off-Broadway would follow suit.
Lucky for the theater owners, it was a time of booming creativity and the quality of their performances turned Off-Broadway into the institution it is today. Off-Broadway revivals were creative (so much so that the 1959 revival of Leave it to Jane ran for two years), the new book shows were quirky and the musicals were powerful (The Fantasticks was released in the 1960's and stayed on stage for 42 years -- the longest running musical in the world). Off-Broadway had become the place for small artists with big ideas.
The trend survives to this day. Even though the musical genre entered into a decline by the end of the 20th century, critical favorites are usually found off-Broadway. Some of those plays are so successful that end up on Broadway or becoming drama student favorites like 2001's Urinetown, Doubt, William Finn's A New Brain, or, more successfully, the internationally acclaimed Avenue Q.
What to See Off-Broadway?
The theatrical landscape changes every season and, more often than not, several times per season. So the best way to find out what play is the hottest, or most suited for you at the time of your travel is to ask people.
It's not advisable to judge by the billboard's size of by the marketing presence. Locals may not go to the theater as much as they used to, but they know how it works and they know what is the biggest trend of the moment and they know why.
Cheap Broadway Tickets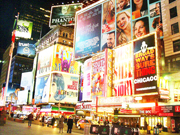 Quality theater doesn't come cheap.
Ever since Broadway was resurrected in the 1980's-1990's, ticket prices have skyrocketed in a way that a whole subculture of re-selling tickets for cheaper has developed. Both online and onsite you will discover a lot of people to trying to make a quick buck by either selling fake tickets or end up charging you too much.
Broadway producers became aware of this and offered a practical solution: the rush ticket system. It's clean, it's legal and it's effective: everyday, a certain amount of tickets are saved for that same day's performance. They are sold on a first-come-first-served basis with a considerable (50-80%) discount.
All you need to know is what show you are watching and that box offices usually open between 10AM and noon on Broadway. It's the best way to start your day -- by ensuring yourself a seat in one of the best night activities New York has to offer.