What did dinosaurs really look like?
Where do humans come from?
What is causing climate change?
Some of these questions may have no definitive answer yet, but the closest you can get to it is in New York.
On 79th street, West of Central Park, to be specific -- home of the American Museum of Natural History.
The World in Eight Floors
With a reputation that has been built and preserved for over 130 years, the museum offers not only insightful information about the world we are living (it is able to explain and show how a rock 12 miles underground can become one of the world's biggest jade boulders 35 million years later) but also brings up experiences impossible to have otherwise (you could try and watch a Blue Whale from below in real life, or stand five feet away from a gorilla, but be prepared to deal with some logistic headaches).
So, if your travels through the city give you time to enrich your scientific knowledge, make sure this is the one museum you go to. Here is a little guide of the obligatory highlights.
Fossil Halls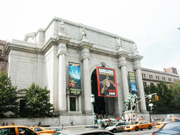 New York is one of the cities with the biggest dinosaur population. Dinosaurs from all types of prehistoric periods and locations have wound up living in the city thanks to the museum's team of paleontologists and curators, who have amassed one of the world's biggest fossil collection. Just walk up to the fourth floor, where the evolution of vertebrates.
This includes all-time favorites like a T-Rex in hunting position, a Brontosaurus, a Mammuthus (which is bigger than a mammoth) a Triceratops and a Stegosaurus. As well as other, lesser known dinosaurs (namely, the ones not featured in Jurassic Park, that is) that look just as amazing, like the Styracosaurus.
Besides the spectacular dinosaur displays, look out for other enlightening exhibits like the Elephant Room or the Whale Display, in which bones are kept in constant movement.
Akeley Hall of African Mammals
Carl Akeley was no ordinary taxidermist.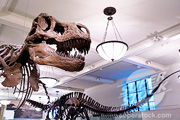 This New Yorker's job was to recreate habitats in museum halls -- vegetation, animals, light and everything. He was the first man in the world to do so. He was also one of the best. The first time he encountered a gorilla, near Mt. Mikeno (Congo), he produced a sculpture that was so stunning it is admired today (The Old Man from Mikeno can be seen in the Brooklyn Museum of Arts and Sciences).
Specialized in African mammals, he would often go out on expeditions (He was a world-renowned explorer who in 1909 went to Africa with Theodore Roosevelt -- in fact, when he was applying for the Explorers Club in 1912, his cover letter simply read "Explorations in Somalia and British East Africa." He was named president.) either to hunt down the animals we would preserve for museums or to get inspiration to make his work more life-like.
Especially when it came to gorillas. Back in the early 20th century, primates were still something outlandish. They were barely any in zoos, and so hunting them down to display them in museums was the only way to learn more about them. For 12 years, Akeley did just that.
However, one day in 1921, after killing several mountain gorillas at Mt. Mikeno, Akeley had a change of heart. He devoted the rest of his life to protect gorillas, prompting the creation of the Virunga National Park in Congo, the first such park in Africa, in 1925. He barely lived to see it. He died a year later in Mt. Mikeno.
But that doesn't mean you cannot see his legacy. The Akeley Hall of African Mammals, was a huge hit when it opened in 1936 (a time of black and white photography and low-quality images of the African landscapes) thanks to the dioramas that faithfully recreate an exotic landscape like Africa (zebras, elephants and chimpanzees included).
It remains open today and is a visitor favorite as well as one of the highlights of the museum. Don't forget to check out the rest of dioramas that have been put up all over the museum like the Hall of North American Mammals and, of course, the floating Blue Whale which has now become an emblem of the museum.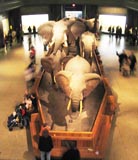 Arthur Ross Hall of Meteorites
Named after the Central Park defender Arthur Ross, this hall contains the the largest meteorite in the world -- the Cape York meteorite, which collided with Earth some 10,000 years ago and a special present from outer space to humankind in the form of extrasolar nanodiamonds.
A quadrillion (four thousand million millions) of them can fit in less than a cubic centimeter. So they may not be worth much when we compare them to Earth diamonds, but they have the added value of being 5 billion years old.