Italy, France and Spain all know it. Religious temples make for the most impressive type of architecture. In New York this is not the case -- skyscrapers, the stock exchange and other temples devoted to commerce take the lead. But that's not to say the city has given up on worshipping the many gods its citizens have faith in. Where else can you find a Buddhist temple, along with the biggest and the tallest cathedrals in the United States?
Here is a small guide to check where you can find the best of them:
St. Patrick's Cathedral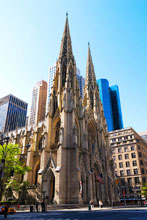 Ranked "America's Favorite Architecture" in a public opinion poll, this ravishing 2,200-seater work of art can be found right in midtown Manhattan, on Fifth Avenue.
Its quintessential Gothic Revival style is in sharp contrast with the rest of the modern, expensive-looking area. (After all, Fifth Avenue was far from populated when the cornerstore was laid in 1858.) But that just makes it all the more fascinating to look at: fans of architecture will appreciate the input from the bunch of different architects that have been contributing to over the years; fans of history will appreciate how tangibly this cathedral makes the Irish influence on New York City; those who visit for religious reasons will like all the little details that tell the story of the city's spiritual history (and other item not as tiny, such as a bust of Pope John Paul II which commemorates his visit from 1979).
It also speaks volumes of American practicality to see that the cathedral was built with bricks which were then covered in marble.
Cathedral of St. John the Divine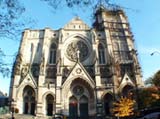 Occupying much of Amsterdam Avenue (and in fact, baptizing the streets nearby as "Cathedral Parkway"), this mammoth cathedral is the biggest in the whole U.S. and a contender for being the biggest of the world as well.
It is an impossible fantasy: you could easily put the Notre-Dame and Chartres cathedral inside. In its 121,000 square feet, the inside has room for almost all the cultures that first immigrated to Ellis Island on 1892, when construction of the cathedral began.
They are hoisted by seven "Chapels of the Tongues", devoted to Dane, German, British, African, Asian, French, Italian and Spanish patrons and apostles. While particularly inspiring asset, these seven chapels are far from being the only sight worth seeing in St. John the Divine.
If everything goes as planned, it should be finished towards 2050. Its construction started in 1892 under Romanesque influence, which changed to Neo-Gothic by 1911 when the new architect turned out to have different tastes. The portal was designed to have a series of male religious figures. After the times changed and this idea became less politically correct, female ones were thrown in. There's a bestiary in which to bless animals on St. Patrick's (again, the Irish), there's a Peace Fountain, an altar for AIDS victims, a Biblical garden with statues of children.
Generally, everything has a very hybrid tone. Like a Gothic wonder planned by a progessist municipal committee.
Mahayana Buddhist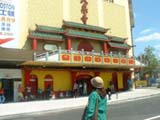 Once an adult movie theater, the building now hosts a colored Buddhist temple that's ideally located on 133 Canal -- right by the Manhattan bridge in Chinatown, making it a sight to behold no matter what religion you subscribe to. After all, taste is all it takes to appreciate the adorned lions that guard the fake pagoda (a must for very Buddhist temple).
Once inside, you will see incense burning inside an urn and a museum of pictures that recreate India's most pivotal spiritual moments in history. You can complete this incursion to the heart of Western Asian religion with a full meal of (more Eastern) Chinese. Now that's New York.
Riverside Church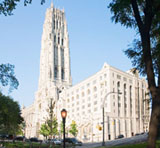 Welcome to the tallest cathedral in the United States, the result of John D. Rockefeller Jr. being a member of the Baptist Church.
A millionaire philanthropist, the famous entrepreneur's son financed the construction of a cathedral-looking church. But he imposed three conditions: it had be an interdominational setting (checked -- the facility serves American Baptist and United Church of Christ parishioners), it had to be in a neighborhood that was important to the city (checked -- it is located in 490 Riverside Drive between 120th and 122nd) and it had to be open to anybody who had faith in Jesus Christ (sort of checked -- it is attended by more than 40 national and ethnic groups).
Its architects traveled through France and Spain to seek inspiration for the project and, after settling for the Chartres Cathedral in France as a model, construction was finished in 1930. Ever since, it has fulfilled Mr Rockefeller Jr.'s dream: the inspirational sermons delivered in it every Sunday are listened to by thousands of New Yorkers from all over the city and it is the go-to place in moments of public distress (such as the September 11, 2001 attacks). It's also the place foreign political personalities like to visit when they travel to New York City.