The Genovese disliked the mean and agressive bosses of the mafia. People like John Teflon Don Gotti, whom Chin Gigante tried to get killed but failed. It was one of Gigante's biggest failures.
Gotti was more of a movie mobster. He belonged to the Gambino family, and his cruelty and penchant for exhibitionism was generally considered a menace to his clan. A clan that was known for its proclivity towards betrayal and regicide anyway.
This is their story.
Growing Up Gambino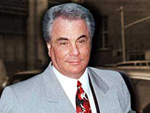 The Gambino's founder, Vincent Mangano, was murdered by his underboss, Albert Mad Hatter Anastasia, who in turn was betrayed by his underboss, Carlo Gambino. (Ah, but Carlo Gambino was one of the good dons. He apparently controlled every aspect of the JFK airport's construction and then also controlled the way the airport was run. He could afford to steal a cargo of watches right in the middle of customs without getting as much as a bad look.) In fact, Gotti got his job as ruler in the typical Gambino style -- he killed his boss Paul The Pope Castellano.
The Pope With a Heart
It's hard to hate Paul Castellano. He has authored some of the most hilarious dialogues in the history of the mafia. In the 1980s, there was an intense crusade against the mafia going on, led by relentless crimebuster Rudy Giuliani. They had his phone bugged in hope that Castellano would give them information on the family's misdeeds. That never happened.
What they discovered, instead, was that Castellano had fallen in love with a Colombian maid called Gloria, who had just arrived to New York and didn't speak a word of English. So Paul The Pope Castellano decided to buy what must have been the first direct translation computer software ever to come out, and that's what the police heard -- a series of computer-generated sentences in atrocious Spanish of what is presumed to be sweet compliments articulated in a heavy New York accent.
That's all Giuliani ever got against Castellano.
Growing Up Gotti
Anyway, John Gotti was a danger to the profession. To know more about him, one only has to go back to 1980, when his 12 year-old son Frank was killed by a truck whilst out riding a bike. The police found out that the truck's driver was a furniture store employee called John Favara. It wasn't clear the accident had been his fault.
In any case, Favara, who was well aware of who the Gotti were, was brave enough to knock on their door to apologize and offer his condolences. John Gotti's wife crushed his head with a baseball bat in return. Surviving the encounter with Gotti's wife, Favara tried to sell his apartment and leave town, but Gotti's men were faster. He was abducted and never seen again.
It was revealed years later that they had chopped him up alive with a power saw. His remains were dissolved in a drum of acid.
21st Century Gottis

A mobster's offspring generally has little interest in staying in the family business. Most of them take different, supposedly clean, occupations. Castellano's children, for instance, became very successful restaurant owners. Not John Gotti's. The Teflon Don wanted to be perpetuated the dynastic way and, when he was imprisoned, he put his business in the hands of his son John Junior.
Now, John Junior Gotti would have a wonderful addition to The Sopranos -- morbidly obese, he spent thousands of dollars in miraculous diet products, drove a truck, wore flower-patterned shirts, and was frequently yelled at by his mother in public. When Gotti Sr informed Gigante of his succession, Gigante reacted by saying, "I'm so sorry."
"He's a laughing stock," mafia expert at the FBI Bruce Mouw said of him. "The Genovese family won't even meet with him."
Not even his sister Victoria (romance novel author, tabloid columnist and cancelled reality show star) ever thought that he would be up to the task of running the Gambino business.
John Gotti died in 2002. He has probably met all of New York's mafia bosses who are buried in the Catholic graveyard, St. John's in Queens. It's a quiet, beautiful place where the past doesn't count. Lucky Luciano's remains, for instance, lie right above those of the man he murdered to gain power, Salvatore Maranzano, the founder of the Five Families that ruled organized crime in New York: Genovese, Gambino, Lucchese, Colombo and Bonanno.
The boys who are still in the business frequently visit and bring flowers. They will all end up in there anyway. The trick is to get there last.